Justin Bieber's 'Sorry' To Luis Fonsi' 'Despacito' And Baby Shark-Top Ten YouTube Videos With Highest Views
Justin Bieber's 'Sorry' To Luis Fonsi' 'Despacito' And Baby Shark Video, Here Are Top Most Popular Videos On YouTube With Highest Number Of Views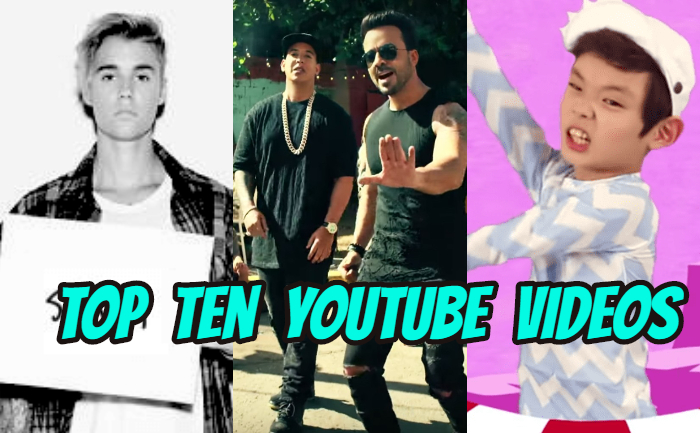 YouTube is one of the highly used social media platform today, which is known for offering free video streaming services to the users. The video streaming application was launched in the year 2005 and in just no time it has became widely popular across the globe. Several people have even build great careers after making interesting videos on the platform. As YouTube stands at the second most used website on the internet after Google, the videos which goes viral are known to have a greater reach and are eventually successful. Here, we have compiled the list of top ten videos on YouTube with highest number of views.
10. Sorry
This lovely song has been co-written by Justin Bieber, Julia Michaels, Justin Tranter, Skrillex, and BloodPop and it was produced by the latter two. The heartfelt lyrics of 'Sorry' is a plea for a chance to apologize to a lover, with Bieber asking for forgiveness and a second chance to redeem himself. The song managed to become a commercially success and it at top position on several musical charts.
9. Learning Colors – Colorful Eggs on a Farm
Set to the tune of children's classic Old MacDonald Had a Farm, this video is actually in Russian, and is designed to help children learn names of colours. The bright colours and educational nature of this video has made it one of the most popular videos on YouTube.
8. Gangnam Style
The 'Gangnam Style' is a song from South Korean, which refers to a lifestyle associated with the Gangnam District of Seoul. The song highlights about the people are trendy, hip and exude a certain supposed 'class'. Reportedly, the singer Psy while talking about the song said that the 'Gangnam Style' was originally produced only for local K-pop fans. Currently this music video has over 3,844,384,371 views, 19M likes and 2.5M dislikes.
7. Uptown Funk
'Uptown Funk' is a song by British record producer Mark Ronson from his fourth studio album, 'Uptown Special' of  2015. It features singer and songwriter Bruno Mars. It is a fun-pop and disco sound track, which surely has a spirit akin to the 1980s-era funk music. By now the song has been watched over 3,993,962,515 times and it has 15M likes and 904 dislikes.
6. Johny Johny Yes Papa by LooLoo Kids.
'Johny Johny Yes Papa' is one of the iconic nursery rhyme in India. This children's age-old song has been available on public domain. The song is about a child, 'Johny', who is caught by his father eating sugar.

5. Masha and the Bear – Recipe for Disaster Get Movies
Masha was based on a real person is a an episode of the Russian animated series. In the 1990s, the project's artistic director, Oleg Kuzovkov, was on holiday when he saw a little girl on the beach. The child was so genuine and open that she could easily walk up to a stranger and play chess with him or pick up his flippers and go swimming.
4. See You Again – Wiz Khalifa featuring Charlie Puth
The song, 'See You Again' is an ode to a lifetime of friendship and closeness. The lyrics and the melody of the song makes heavy use of Charlie Puth's emotionally charged vocals and Wiz Khalifa's relationship-focused raps. The track was commissioned for the soundtrack of the 2015 action film 'Furious 7', as a tribute to actor Paul Walker, who died in a single-vehicle accident on November 30, 2013, in Valencia, California. By now the song has garnered around 4,797,832,505 views, 30M likes and 915K dislikes.
3. Shape of You by Ed Sheeran.
Sung by singer-songwriter Ed Sheeran, 'Shape of You' was released as a digital download on 6 January 2017. The song went on to become one of the major hit with surprising number of views. Ed himself penned the dancey lyrics for the song and Snow Patrol's Johnny McDaid and pop producer Steve Mac produced the music. The song about a boy falling in love with a girl.
2. Despacito Luis Fonsi featuring Daddy Yankee.
Luis Fonsi' song, 'Despacito' featuring Daddy Yankee is one the most popular party anthem in several countries. The song is arguably one of the most popular Latin songs that had hit several musical charts. The perfect blend of pop melodies and Yankee's rap made is smash hit. The song is a very simple in terms of musical composition, with similar basic chords used in pop music. Currently, the music video of 'Despacito' has 7,040,075,756 views, 40M likes and 4.7M dislikes.
1. Baby Shark Dance Pinkfong Kids' Songs & Stories
The viral children music video is about a Shark family. The song has been trending on social media for a while now and several celebs were seen accepting the Baby Shark challenges on social media platforms. The fun and colorful song was produced by a South Korean company called Pinkfong!. Today, this is at the top position to have highest views on YouTube ever with 7,051,398,321 views, 22M likes and 10 M dislikes.
For more such interesting stories, stay hooked on to The Live Mirror.
Also Read: Beating Despacito Song Baby Shark Becomes Highest Watched YouTube Video Ever