Justin Timberlake laughs off at the incident during Paris Fashion Week
At the Paris Fashion Week Justin Timberlake gets the last laugh as Vitalii plays the Prank on him.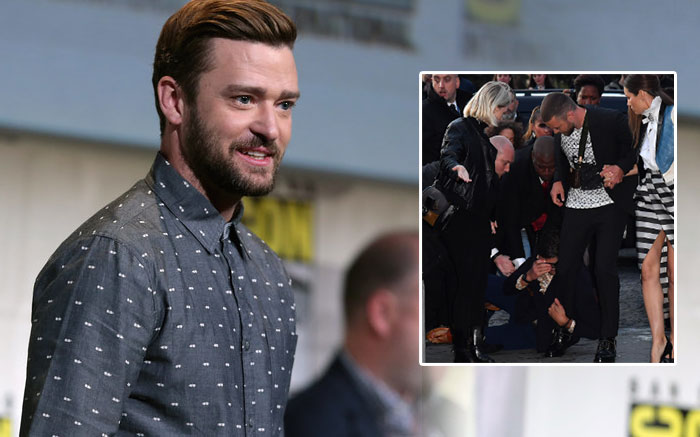 On Tuesday, during the Louis Vuitton's Paris Fashion Week Justin Timberlake was walking down with his wife Jessica Biel on the red carpet when suddenly Vitalii played a prank with him at the serious moment. Vitalii Sediuk who is a celebrity prankster struck when the couple was making their way to the red carpet.
The celebrity prankster clutched Justin's foot and then fell on the ground in a haphazard way that looked like he was begging desperately.The act of his was quite dramatic. The run-in with Vitalii made Justin shock for a while. Meanwhile, as the incident happened the security came in and got him away from the star. The couple, however, were shaken to the core about this affair. Thankfully, no one was injured. Eventually all this incident that was serious before was forgotten and all of it was taken as unobjectionable fun.
Justin Timberlake took the incident lightly as he has a great sense of humour. The humour was taken to an extent that he even made a joke of it on his Instagram.
The caption below his photo read, "Last night at @louisvuitton. Human anklet not included. Congrats on the collection @nicolasghesquiere!" He shared the photo alongside his stunning wife Jessica Biel. Though the couple took the matter by laughing at it casually, at the moment when the incident had happened they seemed jolted by it.
However, it's not the first time Vitalii has had pranked on someone. He has done many pranks before in the Hollywood and may seem to continue doing it.
Also Read: Kim Shattuck Former Pixies Bassist Passes Away