Tamil Nadu Assembly Polls: Kamal Haasan To Contest From Coimbatore South
Kamal Haasan To Contest From Coimbatore South For Tamil Nadu Assembly Polls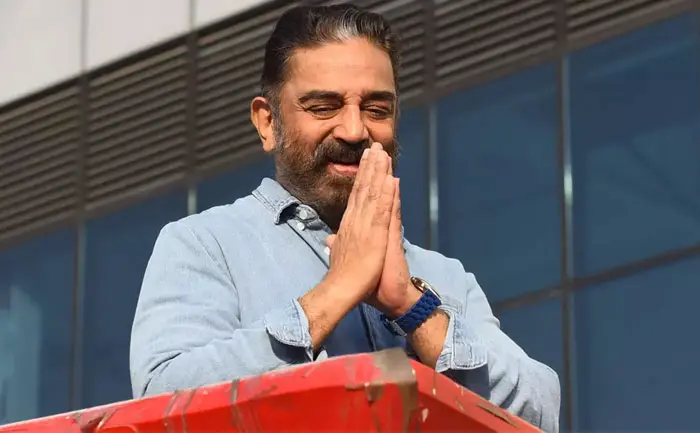 Veteran actor Kamal Haasan is all set to contest in the upcoming Tamil Nadu assembly polls. The founder of Makkal Needhi Maiam will be contesting the elections from Coimbatore South. Haasan made the announcement today while releasing his party's second list of candidates.
DMK and AIADMK have allotted the Coimbatore South constituency to their allies Congress and BJP. Haasan will be taking on Congress and BJP in the upcoming assembly polls.
Remembering his late father Sreenivasan, Haasan expressed confidence that the people of his constituency would enable him to voice his views in the assembly by voting for him. "My father's dream was I should become an IAS officer and then enter politics. Though I could not realise his dream (of becoming an IAS officer), my party comprises many (former) IAS officers. That is a proud moment for us," he told reporters
The MNM is in alliance with the Indhiya Jananayaga Katchi (IJK) and fellow actor Sarathkumar's All India Samathuva Makkal Katchi (AISMK). Both the parties will contest in 40 seats. It had secured around 4 per cent votes in the 2019 Lok Sabha election, with its share going as high as 10 per cent in the urban pockets.
Kamal Haasan has launched Makkal Needhi Maiam in 2018. They are the earliest to hit the campaign trail. They are raising subjects like corruption, jobs, developing villages, and e-governance. Also promised salaries to homemakers and free computers with internet to all homes.
The Tamil Nadu Assembly elections are scheduled to be held on April 6 and the results will be announced on May 2.
Also Read: Kangana Ranaut REACTS To Kamal Haasan's Idea Of Paying The Households