The Kardashian Family 'Shocked Beyond Words' By Kanye West's First Presidential Rally
Kanye West revealed that he and his wife considered abortion before he got a 'message from God'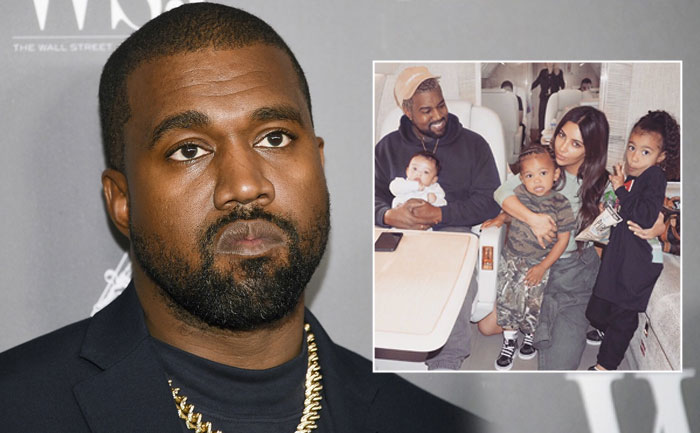 The Kardashian family is 'shocked beyond words' after Kanye West stated that the couple considered abortion when Kim was pregnant with North West during his speech at his first presidential rally. During the rally, held at North Charleston's Exquis Event Center in South Carolina, Kanye West revealed that he and his wife considered abortion before he got a 'message from God'.
TMZ reports that the Kardashian family is 'shocked beyond words' by the revelation. Moreover, they feel he is in 'desperate need of professional help' for an alleged bipolar episode. The rapper acknowledged that his comments would not be taken well by his family during his rally. However, he went on to add that even if his wife were to divorce him, he would still be thankful that she had North.
'My girlfriend called me screaming, crying. I'm a rapper. And she said I'm pregnant. She was crying,' he said. He went on to state that as he was contemplating on what to do, he received a message from god. As per the rapper, he was working on his laptop in Paris when he got the message. 'My screen went black and white. And God said, if you f*** with my vision I f*** with yours,' he yelled. 'And I called my girlfriend and said we're going to have this child. Even if my wife were to divorce me after this speech, she brought North into this world, when I did not want to.' Recalling the past events, Kanye West broke down in tears, shouting, 'She had the pills in her hand! I almost killed my daughter!'
In addition, the rapper also revealed that his father wanted to have him aborted. 'My mom saved my life. My dad wanted to abort me. My mom saved my life. There would have been no Kanye West because my dad was too busy,' he said.
He spent a majority of his rally discussing abortion. He announced that he wanted women to be given money by the government for bearing children.
'Abortion should be legal but the option of maximum increase should be available,' he said. 'Everybody who has a baby gets a million dollars or something. No more Plan B – Plan A.'
Moreover, West provoked attendees by stating that anti-slavery activist Harriet Tubman did not free slaves.
'Harriet Tubman never actually freed the slaves, she just had the slaves go work for other white people,' he said.
Kanye West has previously opened up about his struggle with bipolar disorder. In 2016, he spent time in hospital after a 'psychiatric emergency'.
Real Housewives of Potomac star Candiace Dillard took to Instagram to share her opinion on Kanye's rally speech. She posted several videos where she blasted the Kardashian family for not getting him the help he needs.
Kanye went on to state that he wished to meet with George Soros to discuss building houses, and with Mark Zuckerberg to talk about improving internet connectivity in Africa. In addition, he also had a contradictory stance on gun ownership. While he stated that he was concerned over gun violence, he supported gun ownership.
'When other countries come in, and you have no weapons, what do you think will happen?' he asked. 'You're enslaved. Guns don't kill people; people kill people.'
This presidential rally has left Kanye West fans confused over whether his campaign is genuine or a publicity stunt.