Kapil Sharma says Akshay Kumar touched his feet for Bell Bottom's success, Actor REPLIES
Kapil Sharma shares a photo of Akshay Kumar touching his feet on the sets of 'The Kapil Sharma Show.' Here's how the 'Laxmii' actor reacted.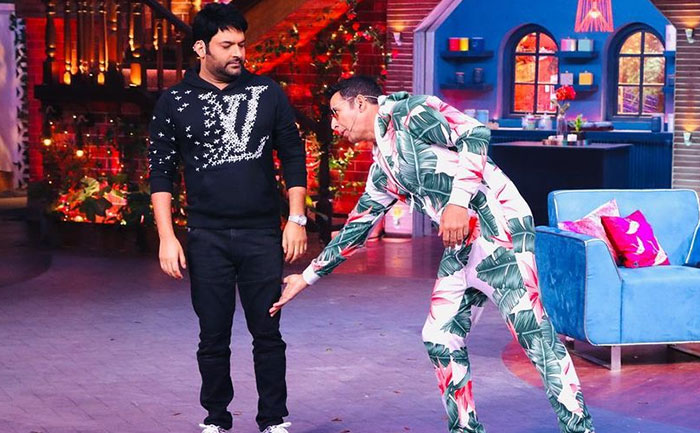 'The Kapil Sharma Show' is all set to go on air from August 21 and the first guest for the new season will be Akshay Kumar who will be promoting his upcoming film, 'Bell Bottom,' alongside stars Lara Dutta, Vaani Kapoor, and Huma Quereshi.
Now, the host Kapil Sharma shared a photo of the Khiladi Kumar touching his feet on the sets. Here's how the 'Hera Pheri' actor reacted.
Sharing the photo, Kapil Sharma captioned it as: "सुप्रसिद्ध फ़िल्म अभिनेता श्री अक्षय कुमार अपनी नयी फ़िल्म #bellbottom के लिए आशीर्वाद लेते हुए 🤪 #fun #comedy #masti #tv #akshaykumar #tkss #thekapilsharmashow #shoot #happiness #laughter #comingsoon 🤗🙏" (Popular movie actor Akshay Kumar taking blessings for his upcoming film Bell Bottom)
Check it out:
View this post on Instagram
To which, Akshay Kumar commented: "और आशीर्वाद के बाद श्री अक्षय कुमार श्री कपिल शर्मा का दिमाग़ उनके घुटने में ढूँढते हुए !" ("And after taking the blessing, this is Mr. Akshay Kumar searching for Mr. Kapil Sharma's brain in his knees.")
Akshay's 'Bellbottom' will be the first film after a long time that is heading for a theatrical release, directed by Ranjit M Tewari, and will release in theatres in 3D on August 19.
Stay tuned to The Live Mirror for more updates.
ALSO READ: Bell Bottom: Akshay Kumar CONFIRMS Release Date, To Hit Theaters On August 19