Karan Johar paid THIS amount for Hindi remake Rights of Dear Comrade?
'Dear Comrade' will be the second Vijay Deverakonda's movie will https://www.thelivemirror.com/?p=665284&preview=truebe remade in Hindi.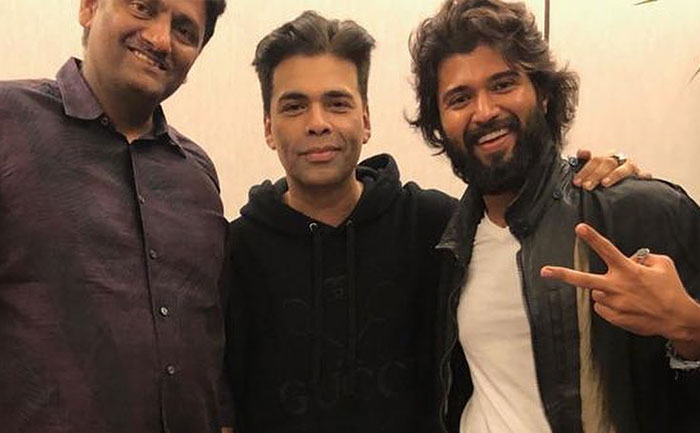 A few days ago, Filmmaker Karan Johar had announced the Hindi remake of Deverakonda's Telugu film 'Dear Comrade' even before the film hit the theatres. After the grand success of Kabir Singh, which was the remake of Vijay Deverakonda's Telugu film Arjun Reddy, another film of the southern star is going to be made in Hindi.
Vijay Deverakonda was recently in Mumbai to meet Karan Johar who wanted to watch his recently released film 'Dear Comrade' which had created a huge buzz in the south industry.
Stunning and powerful love story! With top notch performances and exceptional music by @justin_tunes On point debut direction by @bharatkamma @TheDeverakonda is BRILLIANT as is @iamRashmika well done @MythriOfficial ! ANNOUNCING that @DharmaMovies to REMAKE this beautiful film pic.twitter.com/IRZJ7fTZ9L

— Karan Johar (@karanjohar) July 23, 2019
Reportedly, KJo was not only the only one who was looking to buy the remake rights of 'Dear Comrade'. Bhusan Kumar, Sajid Nadiadwala, Vijay Galani, and Murad Khetani were also interested. But, eventually, Karan Johar turned out to be the biggest bidder amongst all.
According to reports, Karan Johar paid Rs 6 crore to bag the Hindi remake rights of Dear Comrade film. As per the report, Karan Johar was keen to cast Vijay Deverekonda himself to play the lead role in Hindi remake as well.
According to a report in Mumbai Mirror, KJo even offered him Rs 40 crore for the role but the South star has politely refused to do so. He had also refused to feature in 'Kabir Singh', the remake of his mega-hit 'Arjun Reddy'.
Karan Johar announced the good news about the remake of 'Dear Comrade on his social media account that Dharma Productions will be producing the Hindi remake. The Telugu film also stars Rashmika Mandanna in the lead role.
After Arjun Reddy, this will be the second movie of Deverakonda, which will be remade in Hindi. The Hindi remake 'Kabir Singh ' turned out to be the biggest Bollywood hit of 2019 as of now, it featured Shahid Kapoor in the lead role along with Kiara Advani.
Kabir Singh has been doing well at the box office. The movie was released on June 21, the film completed one month in the theatre on Tuesday. It has become the biggest blockbuster of this year in India and is also Shahid Kapoor's biggest solo film to date with an earning of Rs 271 crore.