Karnataka BJP MLA Hosts Birthday Party Amid COVID-19 Lockdown; Gets Slammed By Netizens
M Jayaram, the legislator from Turuvekere in Karnataka's Tumakuru district, celebrated his birthday on Friday (April 10) amid the lockdown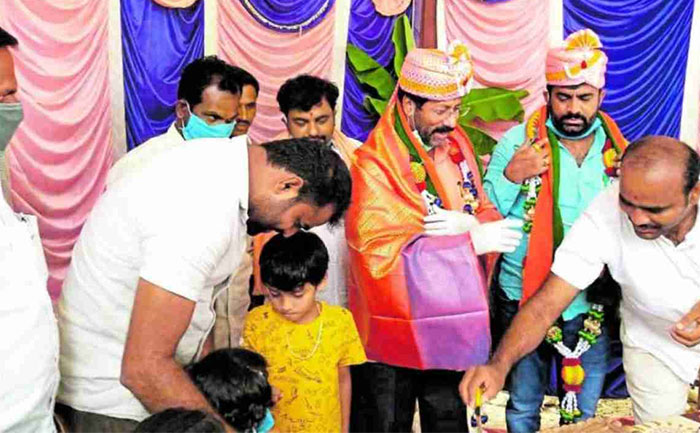 M Jayaram, the legislator from Turuvekere in Karnataka's Tumakuru district, celebrated his birthday on Friday (April 10) amid the lockdown. The BJP MLA also cut a huge chocolate cake wearing white gloves. There were children and elders at the party. They were served biryani in Gubbi town. From the pictures and videos that are doing the round on social media, it seems the MLA and the other guests present at the party have no regard for COVID-19.
"Jayaram's family members and relatives celebrated his birthday in a house compound at Ankalakuppe village in Gubbi taluk where hundreds of his supporters also gathered to felicitate him," Gubbi police inspector P.M. Nagaraj told IANS.
The number of coronavirus cases crossed 200 in Karnataka while the MLA was celebrating his birthday.
As the pictures and videos went viral, netizens slammed the MLA on social media. Many called it an 'unacceptable offense'.
Check some of the tweets here.
Karnataka BJP MLA M Jayaram throws mega birthday bash amid #COVID__19 lockdown

I hope PM Modi takes stringent action against him! Just because someone is from bjp doesn't mean that they can flout rules & put lives in danger!https://t.co/qooVvcugbA

— Shama Mohamed (@drshamamohd) April 11, 2020
Karnataka BJP MLA throws mega birthday bash amid #COVID19 lockdown https://t.co/NX49xq8vvw pic.twitter.com/0fxwH1mPYv

— NDTV (@ndtv) April 11, 2020
BJP MLA from Turuvekere, M Jayaram, celebrated his birthday today with villagers, including kids, in Tumkur, Karnataka, dressed as a magician.

For his next trick, he would make these kids disappear.

Forever. pic.twitter.com/Swwd5S6aJx

— Vaibhav Vishal (@ofnosurnamefame) April 10, 2020
This is not the first time a political leader has attended public gatherings. Last month, Karnataka Chief Minister BS Yediyurappa attended the marriage ceremony of a BJP leader at Belgavi on March 15. Next day, hundreds of Congress workers attended an event to honour the newly-appointed state party president D K Shivakumar.
Also Read: PM Narendra Modi Likely To Address Nation On Covid-19 Lockdown Extension