Karnataka: Former IPS Officer 'Singham Annamalai' joins BJP
Former IPS officer Annamalai Kuppusamy, dubbed as Karnataka's 'Singham' joins BJP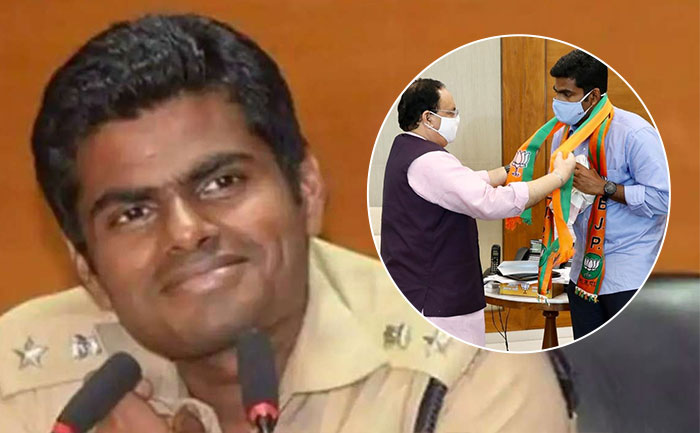 Former IPS officer Annamalai Kuppusamy known as Karnataka's Singham has joined the Bharatiya Janata Party (BJP) on Tuesday. Before his joining BJP had hinted that "an eminent personality" is all set to join the party today. Kuppusamy joined the ruling party in the presence of party General Secretary P Muralidhar Rao and Tamil Nadu BJP State President L Murugan. The joining in took place at BJP headquarters in Delhi.
The former deputy commissioner of police, Bengaluru South, had earlier said that he would be joining the BJP at its headquarters in New Delhi.
Delhi: Annamalai Kuppusamy met party president JP Nadda, after joining the party along with BJP national general secretary P Muralidhar Rao & Tamil Nadu BJP president L Murugan. pic.twitter.com/GsMIT5iRzB

— ANI (@ANI) August 25, 2020
Speaking to IndianExpress.com, Kuppusamy said he was entering politics as the country needed better governance, and there was a need to put the common man at the centre of the narrative.
Post joining the former cop praised PM Narendra Modi. He said, "The PM is fearless, courageous, spirited, and had knowledge. I have decided to strengthen the movement that the party stands for and to bring the national spirit to our state of Tamil Nadu. I'll try my best as a loyal soldier of this party to dedicate my time and energy to further this cause in Tamil Nadu and across India."
Kuppusamy was often referred to as the Singham of Karnataka because of his no-nonsense approach in tackling criminals.
Also Read: Karnataka Man installs late wife's statue in their dream bungalow