Video Of Kartik Aaryan Fans Addressing Sara Ali Khan 'Bhabhi' Goes Viral
Kartik Aaryan Fans Call Sara Ali Khan 'Bhabhi' as They Promote Love Aaj Kal in Agra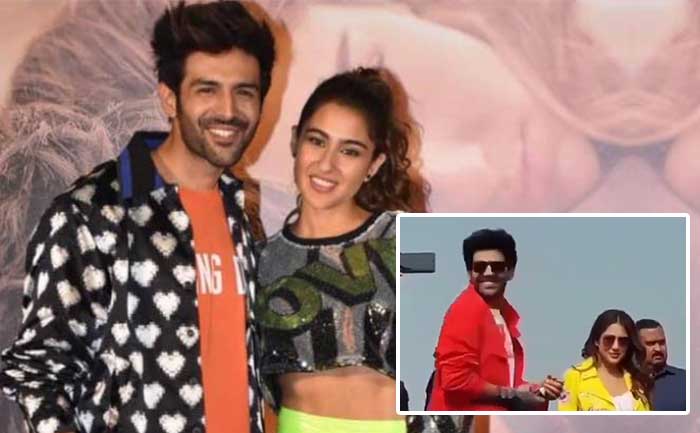 Sara Ali Khan and Kartik Aaryan are currently on a promotional spree as their upcoming film Love Aaj Kal is just two days away from its official release date. In order to promote Love Aaj Kal, the twosome have been travelling from one city to another. The fans of Sara and Kartik are gathering in large numbers to have a glimpse of the actors wherever they go for the meet and greet events.
Recently, at an event took place in Agra, while Sara and Kartik were promoting their film, suddenly Kartik's fans started addressing the Simmba actress Bhabhi leaving Kartik blushing but the actress appears to be quite embarrassed by the act.
Notably, there have been rumours that Sara and Kartik are seeing each other but the alleged couple denied the rumours saying that thay are just friends and colleagues and nothing more than that. However, their clarification does not seem to affect the fans of the two who recently started addressing Sara as 'bhabhi'.
When Sara was recently asked is she dating Kartik? To which she told Pinkvilla, "No, I am not dating Kartik. I'm dating him in a film. That's all that matters."
The video of Kartik Aaryan's fans addressing Sara Ali Khan Bhabhi Bhabhi has gone viral on the internet. You can watch the video below:
Love Aaj Kal is a sequel to Saif Ali Khan and Deepika Padukone's film by the same name. Notably, this is the first time when Kartik and Sara will be seen sharing the screen space together. The film is scheduled to hit the theatres on February 14, 2020, coincides with Valentine's day.
Besides Sara and Kartik, directed by Imtiaz Ali features Arushi Sharma and Randeep Hooda in important roles.