Karwa Chauth 2021: Date, Shubh Muhurat, Significance & Other Details
Karwa Chauth 2021: Date, Time, Puja Muhurat, Rituals, Significance And All You Need To Know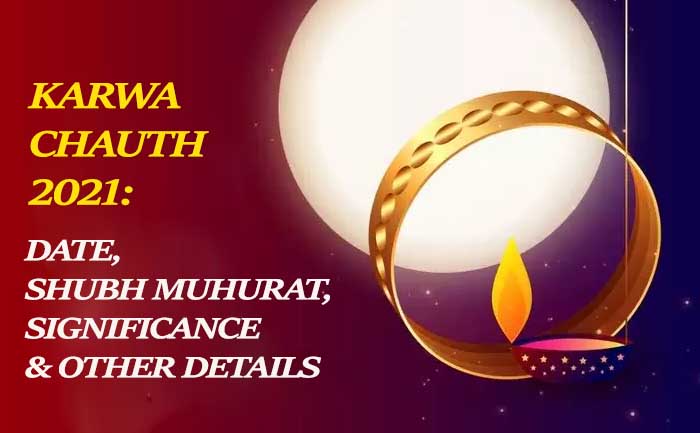 Karwa Chauth or Karak Chaturthi is one of the most important festivals of married women from Northern India. Karwa Chauth is made up of two words; 'Karwa' which means earthen oil lamp and 'Chauth' which means four.  As per the Hindu calendar, Karva Chauth is observed every year on the Chaturthi Tithi of Krishna Paksha. It is in the month of Kartik. On this day married women keep a Nirjala fast (without water) for the long life of their husband and a happy married life. Here is all you need to know about the date-time of karwa chauth.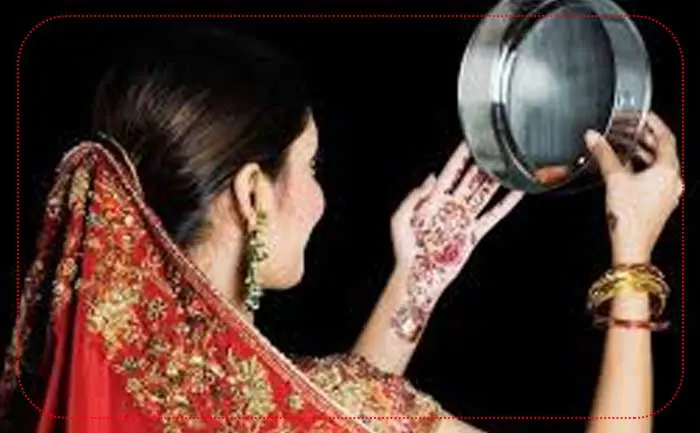 Not only married even unmarried girls fast to get a good life partner. Dressed in their festive best women fast the whole day and end it by seeing the moon. They end the fast by offering water or Argha to the Moon. The Karwa is then given as a daan to a brahmin or any eligible married woman. The festival is celebrated highly in the states of Himachal Pradesh, Uttrakhand, Uttar Pradesh, Haryana, Punjab, Gujarat, and Rajasthan.
Here is all you need to know about the Date, Time and Significance of Karwa Chauth:
Karwa Chauth 2021 date;
This year, Karwa Chauth will be observed on October 24.
Karwa Chauth 2021 Chaturthi Tithi:
The Chaturthi Tithi begins at 3:01 AM on October 24 and ends at 5:43 AM on October 25.
Karwa Chauth 2021 Upavas time:
The Karwa Chauth 2020 Upvas timings are between 6:27 AM to 8:07 PM on October 24.
Karwa Chauth 2021 Puja shubh muhurat:
The Karwa Chauth puja muhurat is between 5:43 PM to 6:59 PM.
Karwa Chauth 2021 Moonrise Timing:
The Moon is expected to rise at 8:07 PM.
How is Karwa Chauth celebrated: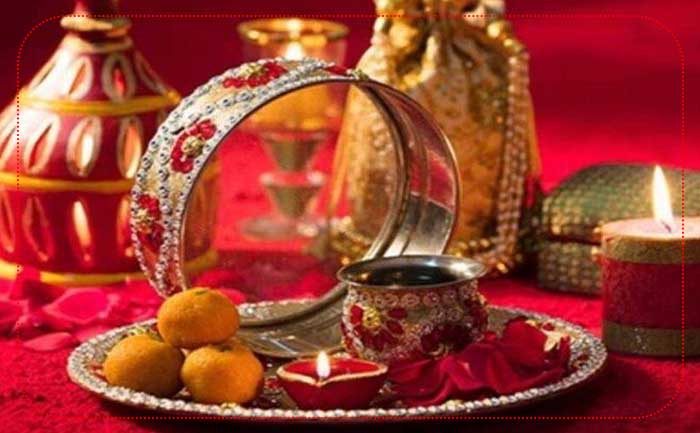 Sargi is one of the most significant components of the Karwa Chauth Day. It is a special meal prepared which is eaten before sunrise. It usually includes seviyan or vermicelli which is prepared by the mother-in-law for the daughter-in-law.
Henna (Mehndi) ceremony is performed along the day of Karwa Chauth by the married women. This day is completely dedicated to the husbands by their respective wives.
Shringar (adornment) is seen as one of the most important factors of this day. Precious jewellery and bangles are worn by married women, which represent their marital status.
The day begins with an early morning prayer and is followed by 'Sargi' before sunrise. Women consume sargi after their bath. The fast can only be broken after the offerings and sighting of the moon.  The rituals are usually carried out in groups. During this time, women narrate the Story of the Karwa Chauth.
Puja Rituals And Vrath Vidhi: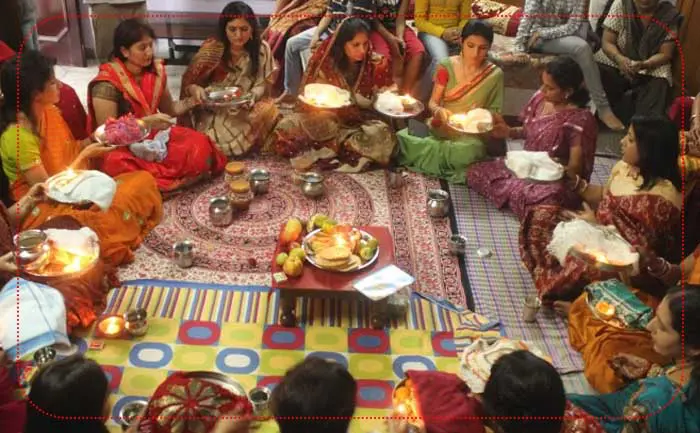 Women begin preparing for Karwa Chauth a few days in advance. They buy adornments, jewellery and also Karwa lamps, matthi, henna and decorative puja thalis.
On Karwa Chauth the women wake up before sunrise and after bathing will have Sargi. The day will pass by spending time with family or friends. As evening nears the fasting women will get ready for the puja ceremony. Participants dress in red, gold or orange, which are considered auspicious colours. They will adorn themselves with jewellery.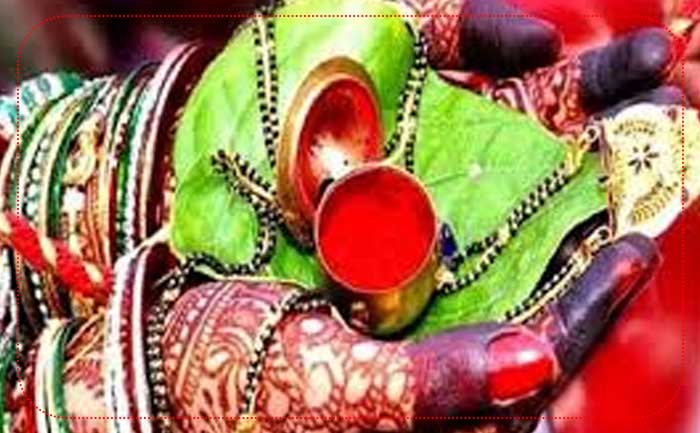 The fasting women sit in a circle with their puja thalis. A version of the story of Karwa Chauth is narrated, with regular pauses. In the pauses, the Karwa Chauth puja song is sung collectively the singers perform the feris (passing their thalis around in the circle) seven times.
In the first six feris they sing like: "Veero kudiye Karvara, Sarv suhagan Karvara, Aye katti naya teri naa, Kumbh chrakhra feri naa, Aar pair payeen naa, Ruthda maniyen naa, Suthra jagayeen naa, Ve veero kuriye Karvara, Ve sarv suhagan Karvara" whereas in the seventh feri: "Veero kudiye Karvara, Sarv suhagan Karvara, Aye katti naya teri nee, Kumbh chrakhra feri bhee, Aar pair payeen bhee, Ruthda maniyen bhee, Suthra jagayeen bhee, Ve veero kuriye Karvara, Ve sarv suhagan Karvara".
After the puja, they wait for the moon to rise. As the moon rises they perform puja by offering argha to the moon. They look at the moon through a sieve and the fast is broken by having some water usually offered by the husband. Later they seek blessings from the elders.
Karwa Chauth Legend: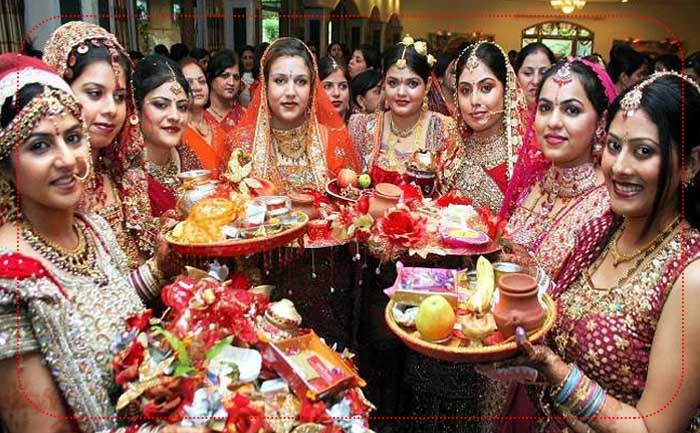 A popular legend around this festival is about Veervati and her brothers. As per the legend, Veervati was the only sister among seven brothers who loved her the most. On her first Karwa Chauth, she celebrated the day at her family's home. Her brothers were unable to see her hungry and thirsty and tricked her with a mirror in a pipal tree that made it look like the moon had risen. Veervati mistook it for the moon and broke her fast. She received a message she got message of her husband's death from her servants. Heartbroken, she wept all night long until a goddess appeared in front of her and asked her about her misery. The goddess asked her to observe the Karwa Chauth fast again with dedication and devotion to see her husband alive. Veervati followed her instructions and observed a fast again. Impressed with her dedication, Yama, the god of death, was forced to bring her husband back to life.
Karwa Chauth Don'ts:
Do not use scissors or needles. The use of pointed objects on the day of the festival is inauspicious.
Should not speak rudely.
Avoid giving anything in white. Anything that resembles the moon should not be given.
Avoid offering rice, milk, curd or white coloured items to anyone.
Not to wear dark coloured clothes like black, blue or brown.
Avoid arguing with anyone.
Do not throw bangles, sindoor, bindi, etc in the dustbin.
This year Karva Chauth will be special due to an auspicious coincidence due to which its importance will increase even more. The auspicious coincidence is that on Karva Chauth, the Moon will rise in Rohini Nakshatra. This constellation is considered very auspicious from a religious point of view. Moon is the lord of this nakshatra, so it is believed that seeing the moon in this nakshatra gives desired results.
After the four-day span of Karwa Chauth, Ahoi Ashtami is celebrated for the well being and longevity of sons.
Also Read:  Happy Dussehra: Amitabh Bachchan, Allu Arjun & Others Send Heartfelt Wishes