Kerala Elephant Death: Forest Dept Takes Two In Custody
Minister of Environment, Forest and Climate Change Prakash Javadekar took to twitter to assure that the culprits will be bought to justice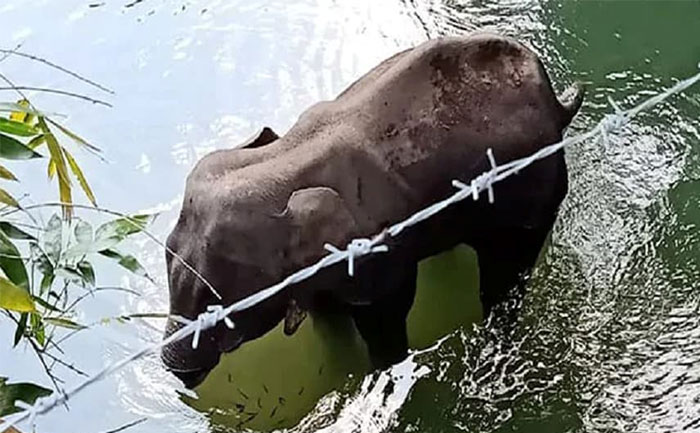 Two individuals have been taken into custody by a Kerala forest department team while investigating the killing of a pregnant elephant that has caused nationwide outrage. There are no more details regarding the progress of the investigation as of yet.
Meanwhile, the local Manarakadu police station on Wednesday registered a case for the heinous incident, reported Outlook.
"The forest department and the police are probing the incident and we are confident of finding the villains behind this crime," said Sub Inspector of Police T.K. Ramachandran.
Moreover, Minister of Environment, Forest and Climate Change Prakash Javadekar took to twitter to assure that the culprits will be bought to justice. He tweeted, "Central Government has taken a very serious note of the killing of an elephant in Mallapuram, #Kerala. We will not leave any stone unturned to investigate properly and nab the culprit(s). This is not an Indian culture to feed fire crackers and kill."
This gruesome killing has sparked a countrywide outrage with celebrities coming forward to raise their voice. Bollywood actress Shraddha Kapoor urged netizen to file a petition for strict actions against animal cruelty. Moreover, other Bollywood celebrities like Anushka Sharma, Akshay Kumar, and Randeep Hooda also condemned the henious incident.
This incident occurred in Kerala on 27th May. It is being reported that some locals allegedly fed the pregnant elephant a pineapple stuffed with firecrackers. These firecrackers exploded, leading to the death of the elephant and her unborn child.
Meanwhile, BJP leader Maneka Gandhi slammed Malappuram while speaking about the incident.
"Action should be taken against everyone who is suspected in Malappuram. These are repeat offenders. Whether it is children being sold in orphanages, as we have found, it is Malappuram. Whether it is people being killed, look at the crime rate in Malappuram. What is being done in Malappuram? Nothing. Look at the communal conflict there. Highest in Malappuram. We take so much action against other districts, why is no action being taken against Malappuram. Rahul Gandhi is from the area, why is he not taking action?"