K.G.F. Chapter 2: Actor Yash gets notice for THIS scene in teaser
The Karnataka health department has raised concern over the Kannada film, 'K.G.F. Chapter 2' for THIS reason. Read on.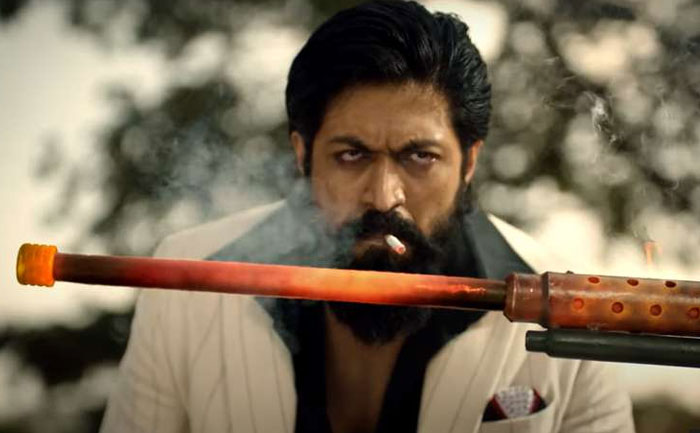 A few days back, the much-awaited teaser of the Kannada periodic action film, 'K.G.F. Chapter 2' was released by Hombale Films on YouTube and it has created a huge record by garnering over 140 million views. It also became the number 1 Twitter trend in India, a few minutes after its release.
Now, the makers have landed into legal trouble as the Karnataka health department has raised concern over a scene in the teaser in which Yash, who essays the role of protagonist Rocky Bhai is seen smoking and this did not go well with the department as they have sent a notice and appealed the actor to take steps to remove this teaser.
In one of the scenes, it shows Yash blowing up a row of jeeps with a machine gun and then, goes on to light a cigarette using the barrel of the red-hot gun.
According to the notice, as per the statutory requirement, it is necessary to display a warning on the screen with the caption "Smoking is injurious to health", however, neither the teaser nor the publicity posters display any such message.
The notice stated and have requested Yash to remove the smoking scene from the teaser and also from all the social media platforms."Both the teaser and the posters encourage cigarette smoking. Yash, you are a heart-throb and you have immense fan following. Your actions should not mislead the youngsters. We want you to join our campaign against cigarette smoking," said the notice.
The Karnataka State Anti-Tobacco Cell said that it violated Section 5 of the Cigarettes and Other Tobacco Products (Prohibition of Advertisement and Regulation of Trade and Commerce, Production, Supply, and Distribution) 2003, also referred to as COTPA 2003 and sought deletion of the teaser from online platforms. However, the cell is not going to ask the filmmakers to take away the scene from the film.
ALSO READ: KGF Chapter 2 Teaser: Yash And Sanjay Dutt Come Together For Action Packed Saga