Kozhikode: Air India Express Plane Overshoots Runway During Landing, Splits In Two
Air India Express flight with 191 passengers en route from Dubai skids off runway at Kozhikode, pilot killed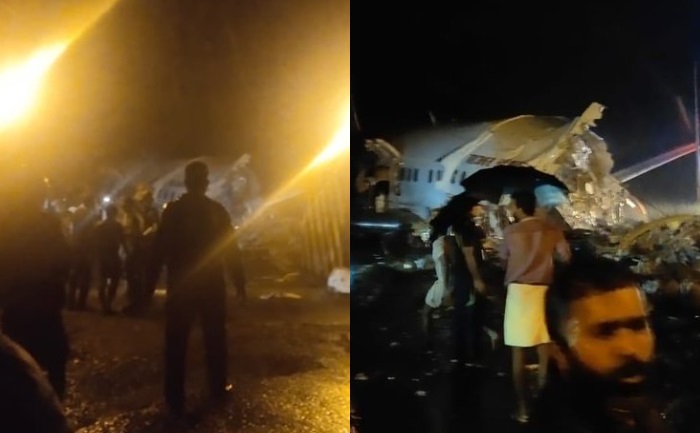 An Air India Express plane with 191 people on board from Dubai skidded off the runway while landing at Karipur Airport in Kerala's Kozhikode. The plane has broken into two parts. The flight, IX-1344, bound for Kozhikode from Dubai skidded during landing at the Karipur Airport at around 7.45 pm. The aircraft was part of India's "Vande Bharat" repatriation initiative to bring back expatriates from foreign countries.
As reported by sources to Zee News, "There were total of 184 passengers, including 10 infants and six crew members, including two pilots, onboard Dubai-Kozhikode Air India flight (IX-1344) that skidded during landing at Karipur Airport today."
#AirIndia Express B737 Dubai to Calicut, with 191 people – passengers & crew – amid heavy rainfall with visibility of 2000 meter … after landing Runway 10, continue running to end of runway and fall down in the valley and broke down in two pieces #Calicut pic.twitter.com/Exb8sa2Crm

— Supriya Bhardwaj (@Supriya23bh) August 7, 2020
Reportedly the aircraft split into two pieces with debris strewn over the runway. Official confirmation of casualties is awaited. It has been confirmed that the aircraft did not catch fire.
My prayers are with the passengers & crew member. 🙏#AirIndia pic.twitter.com/dG0d9DDqYm

— Hindu Temples Info (@BharatTemples_) August 7, 2020
The Directorate General of Civil Aviation (DGCA) has issued a statement saying, "Air India Express AXB1344, B737 Dubai to Calicut, person on board 191, visibility 2000 meter, heavy rain, after landing Runway 10, continue running to the end of the runway and fell down in the valley and broke down into two pieces."
A team of the National Disaster Relief Force (NDRF) has been dispatched to Kozhikode from Malappuram in Kerala.
Also Read: UN report warns of ISIS presence in Kerala & Karnataka