Bell Bottom: Lara Dutt Looks Unbelievable As Indira Gandhi, Leaves Netizens In Awe
Lara Dutta portrays the role of former Prime Minister Indira Gandhi in 'Bell Bottom,' leaving netizens in awe of her transformation.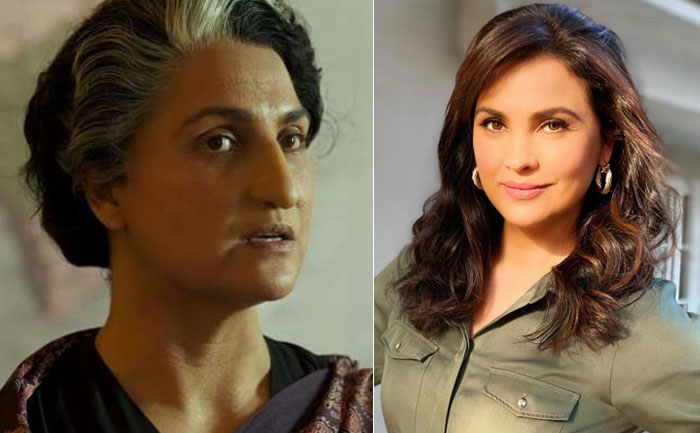 On Tuesday, the much-anticipated trailer of Akshay Kumar's spy thriller, 'Bell Bottom' was released. The trailer also features Lara Dutta in an unrecognizable avatar as what appears to be former Prime Minister Indira Gandhi while Vaani Kapoor has been cast as Akshay Kumar's wife.
Soon after the trailer was released, netizens were left in awe of Lara's transformation. "#LaraDutta" took a top spot on Twitter trends after the trailer was released.
Check out how Twitter reacted to Lara Dutta's transformation:
OMG this is #LaraDutta our Miss Universe😱😮.. she nailed it.. looking forward for this movie..
#BellBottomTrailer pic.twitter.com/56xyul28d6

— Aishwarya Muraleedharan (@Aishwar46954977) August 3, 2021
OMG!! She's #LaraDutta 😳😳
What a makeup!!! @LaraDutta #BellBottomTrailer #BellBottom pic.twitter.com/JUeTbrPTSJ

— Aavishkar Gawande (@aavishhkar) August 3, 2021
After watching #BellBottom trailer more then 5 times i am still not able to recognize is she really The @LaraDutta … but hatsof to makeup Artist and of course phenomenal #LaraDutta u truely deserves all the appreciations hats of mam pic.twitter.com/bRQOf4va2z

— Tumrani Basit (@BasitTumrani) August 3, 2021
Make-up Artist indeed deserves a National Award. #BellBottomTrailer #LaraDutta #BellBottom pic.twitter.com/1SV8Rkat5s

— 𝐃𝐞𝐛.⋆☁️ (@ekdilrubahai) August 3, 2021
Makeup of @LaraDutta Is unbelievable man! Makeup man deserves huge round of applause!
She must have given her best in that role. Just Incredible! #BellBottom #LaraDutta #BellBottomTrailerOnTheWay pic.twitter.com/5IFoFW8eBB

— Ankit Khiladi 😎 (@AnkitTheKhiladi) August 3, 2021
At the trailer launch event in Delhi, while asking the media to guess her role, Lara said, "If anyone is able to guess, then I will take all their family members free to the theatres."
Further, she added: "Okay, so you did see me in the trailer. I'm playing Mrs. Indira Gandhi in the film. That's me. All it took was a call and they said that Lara this film is being made and we are casting for Indira Gandhi's role. That is all it took before I even heard the script. But yes, of course, there is a great responsibility when you're portraying somebody who is an iconic figure like her.
"As you all know that the film deals with a hijack situation that happened during her tenure. Given the dramatic events that were unfolding, she was somebody who was extremely centered and not really prone to any dramatics. So it was important to portray her in that form. I had a great time. There was a lot of homework and research that went behind it. But it was an opportunity of a lifetime that I'm thankful for," added Lara.
Directed by Ranjit M Tewari, 'Bell Bottom' will release in cinemas on August 19. The spy thriller is based on a true story and is being directed by Ranjit M Tewari and written by Aseem Arrora and Parveez Sheikh.
ALSO READ: Bell Bottom Trailer: Akshay Kumar's On-Screen Charm Is Unmissable