Largest same Birthday gathering: Gujarat creates history, cut more than 1,200 cakes together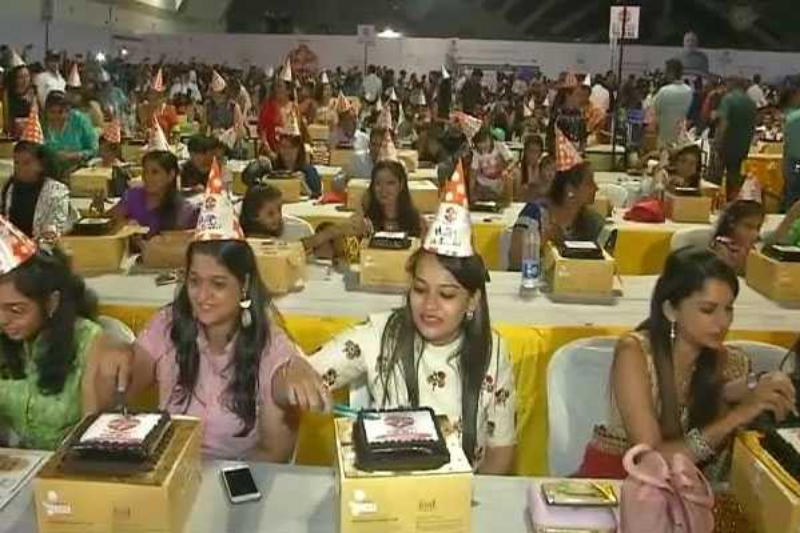 On the occasion of Prime Minister Narendra Modi's 68th birthday on 17 September 2018, a bakery in Gujarat organised the largest gathering of people who shared the same Birthday with the PM Modi. In an event organised by Atul Bakery, over 1,200 people gathered at Sarsana exhibition centre in Gujarat and created World record for the 'Largest same Birthday gathering'.
If we look at the earlier record, it was held by a Stichting Apenheul (Netherlands) in Apeldoorn, in which 228 people attended the event who had shared the same birthday date,  July 4. The event was organised in celebration of 5 gorillas born at the zoo in 2012.
The "Birthday Carnival", celebrated as Atulya Shakti Diwas, brought September 17-born throughout the country together and they all cut their own cakes under the same roof in Gujarat. From kids to elderly, all were seen wearing birthday caps and enjoying birthday songs
"We formed over 20 groups of around 50 people each and named the groups after the schemes launched by PM Modi Around 1200 people sharing their birthday with the PM have gathered here," Atul Vekariya, the owner of Atul Bakery told NDTV.
The group for young girls was named 'Sukanya Yojana'; for adolescent girls, it was 'Beti Bachao Beti Padao', for elderly, the group's name was 'Atal Pension Yojana', for youth, the name was 'Skill India'. Digital India, Jan Dhan Yojana, Swachch Bharat Yojana were some of the other group names, but what stood out was a group that had people with the name Narendra.
A person in Gujarat who not only shared his birthday date with Prime Minister but also shares his name, his mother's name and sign too.  Narendra Soni, a group member said, "I share my name, birth date, birth year and sun sign with PM Modi. Coincidentally, our mothers' names are also the same."
Another group member Palak Bafna told NDTV, "I share my birthday with PM Modi. I cannot do what Modi ji has done, but I can certainly keep my house, surroundings and nation clean as part of the Swacch Bharat Campaign launched by him."
Last year, the bakery made a huge 680 feet cake that was cut by 'Divyaang' or the differently-abled.
Also read: Birthday special: 7 interesting facts about PM Narendra Modi