Bring Me Home actress Lee Young Ae meets BTS Members, shares photo on Instagram
Bring Me Home actress Lee Young Ae has shared an adorable photo of her meeting BTS Members.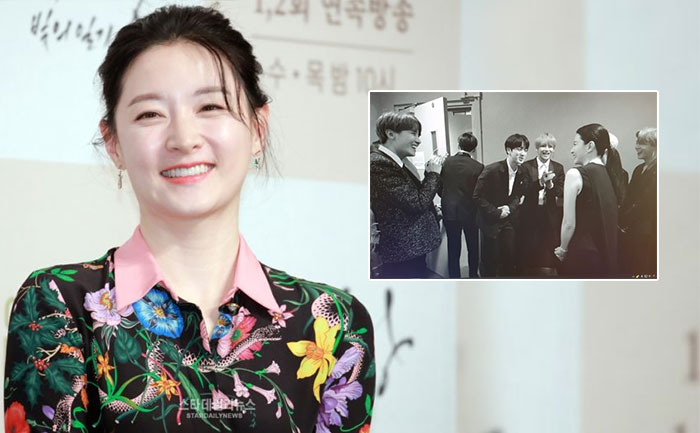 South Korean actress Lee Young-ae, who is known for her appearance in the historical drama Dae Jang Geum (2003), seems to be quite happy meeting with popular Korean boy band BTS. The gorgeous actress Lee Young-ae has taken to Instagram and shared a picture showcasing BTS members having a gala time with her.
Notably, this is not the first time Lee Young-ae and BTS met, earlier she attended BTS' concert in Seoul and shared a photo of the same on her social media account, which went viral online.
Lee Young-ae is an avid social media user and she loves sharing photos and videos of her with her fans on Instagram.
On November 24, she took to her Instagram account and shared a photo of herself meeting BTS. Lee Young Ae and BTS look thrilled to meet each other as they exchange glowing smiles and warm greetings.
Lee was recently roped in for the film Bring Me Home, marking her comeback on the big screen after 14 long years.
Her upcoming film Bring Me Home is a crime thriller about a woman named Jung Yeon (Lee Young Ae) who is contacted by someone that claims to have seen a boy who looks just like her son, who went missing six years before.
This is Lee Young Ae's first film role since she played the now iconic lead character in "Sympathy for Lady Vengeance" in 2005.
"Bring Me Home" is scheduled to hit the Korean theaters on November 27 after making its world premiere at the Toronto International Film Festival in September.
Check out a teaser here!
Also Read: BLACKPINK's 'Kill This Love' Dance Practice Video Hits 200M Views On YouTube