Lionel Messi Birthday Special: The Barcelona star's greatest achievements
11 greatest achievements of Lionel Messi's so far on his special day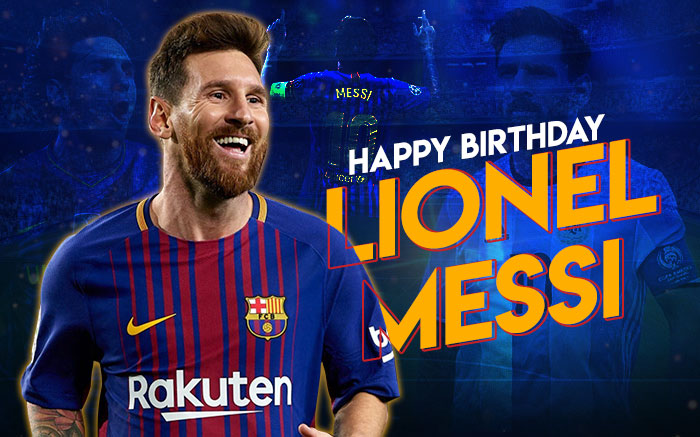 Lionel Andrés Messi Cuccittini aka MESSI is unarguably one of the best footballers in the history of the sport. His journey from a regular kid to an iconic football player is truly unreal. The iconic player has time and again proven his prowess by rescuing his team from the crisis. As Messi turns 32, we bring you some cool achievements of the Barcelona Superstar who is considered Greatest of all times going by his colossal stats and records.
Here are some of the amazing achievements of the Barcelona Superstar:
1. First To Score In 15 Consecutive La Liga Seasons:
On Aug 18, 2018, his goal against Deportivo Alavés made him the first player to score in 15 consecutive Spanish league seasons. This was also F.C. Barcelona's 6,000th goal.
2. 50 Hat-Tricks:
On Feb 23, 2019, he scored his 50th career hat-trick during a match against Sevilla. His third goal also marked his 650th career strike – 585 for Barcelona and 65 for his national team, Argentina.
3. Most LA LIGA Wins:
On April 6, due to his goal against Atlético Madrid, Messi made 335 La Liga victories – the highest number of wins in the Spanish league. He edged out former Spanish skipper Iker Casillas.
4. Most Goals In LA LIGA Season:
The Barcelona icon scored 50 goals from 37 appearances in 2011/12. He almost repeated the feat the following season, scoring 46 times in only 32 games. Ronaldo came closer still during the 2014/15 season, scoring 48 times in 35 games.
5. Most BALLON D'OR Wins:
The diminutive Argentine has five wins to his name. He shares this record with Ronaldo, who won his fifth in December 2017.
6. Most European GOLDEN BOOTS:
Messi has won six European GOLDEN BOOTS. He is a player with the most league goals in any of Europe's top-flight leagues.
7. Fastest To 100 UEFA CHAMPIONS LEAGUE Goals:
Messi, who made his debut in the competition in 2004, against Ukraine's F.C. Shakhtar Donetsk, reached the landmark in 123 games. Messi and Ronaldo, are the only players to have scored a century of goals in Europe's most prestigious club competition.
8. Only Player Scoring in 23 Cities:
Messi has scored Champions League goals in Portugal, England, Scotland, France, Italy, Germany, Switzerland, the Netherlands, Denmark, the Czech Republic, Ukraine, Russia, Greece, Belarus, Cyprus and, of course, Spain. That adds up to an impressive 23 goals across 16 cities.
9. LA LIGA'S Top Scorer:
Messi is a five-time winner of the Trofeo Pichichi  which was named after legendary Athletic Bilbao striker Rafael "Pichichi" Moreno. The award is given by leading Spanish sports newspaper Marca and has been given to the top scorer in the league every year since 1952-53. The only one with more wins is Zarra (1921-2006), with six.
10. Most Goals Scored in EL CLÁSICO:

Always an incendiary fixture, games between sworn rivals Barcelona and Real Madrid acquired an extra edge when Messi faced Ronaldo. The Argentine, however, is comfortably the top scorer with 26 goals to Ronaldo's second-best of 18.
11. World's Second Highest Paid Athlete:

The soccer superstar ranked No. 2 on Forbes' annual list in 2018, with earnings of $111 million. Although he didn't top the list, he did beat Ronaldo; the top spot went to boxing champion Floyd Mayweather Jr. who recorded $285 million in earnings.
Wishing the legendary star all the success and a very Happy Birthday.
Also Read: Messi raises iconic status at Barcelona with 10th La Liga crown