Lionel Messi pips Cristiano Ronaldo to win fifth European Golden Boot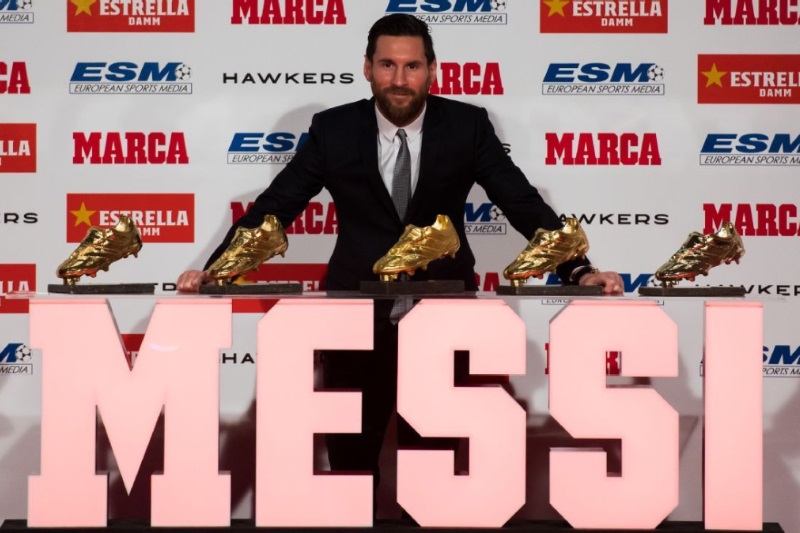 Lionel Messi said that he never expected to have such a successful career at Barcelona after winning the European Golden Shoe for a record fifth time on Tuesday.
The Argentine superstar, who was overlooked for the Ballon d'Or awards two weeks ago, scored 35 times in 36 matches to claim his fifth European Golden Shoe, surpassing the four Cristiano Ronaldo had won at Real.
Messi, who led Barcelona to a La Liga title victory last season, piped Liverpool's Mohamed Salah to the top honours. Salah had netted 32 times for the Anfield side.
"I did not expect this when I started," Messi was quoted as saying by Goal.com at a gala in Barcelona on Tuesday. "My professional dream was to be able to succeed in football, I never imagined this.
"I enjoy my work, the effort and, above all, the team-mates. I'm in the best team in the world, I have the best team-mates in the world in their positions and that makes everything easier getting these awards.
"Thanks to God I feel very good physically and emotionally. The years go by and I try to take care of myself, as I have done my whole career, and more, because the games are increasingly demanding."
He had earlier clinched the Golden Shoe in 2009-10 (34 goals), 2011-12 50), 2012-13 (46), 2016-17 (37) and also led the Catalan club to a domestic double (League title and Copa Del Rey) in 2017-18.
Messi has been in top form even in the ongoing La Liga season and has already scored 14 goals, more than any other player in Europe's top five leagues.
The club captain on the weekend scored a scintillating hat-trick in Barcelona's 5-0 win over Levante. His three goals came 17 minutes apart from each other and he also assisted Gerard Pique and Luis Suarez in netting the other two.
Also read: Lionel Messi scores hat-trick against Levante; friend Xavi wants Ballon d'Or for him