Love Aaj Kal Song Haan Main Galat: Kartik Aaryan twists with Sara Ali Khan
Love Aaj Kal Song Haan Main Galat featuring Sara Ali Khan and Kartik Aaryan out. Watch it here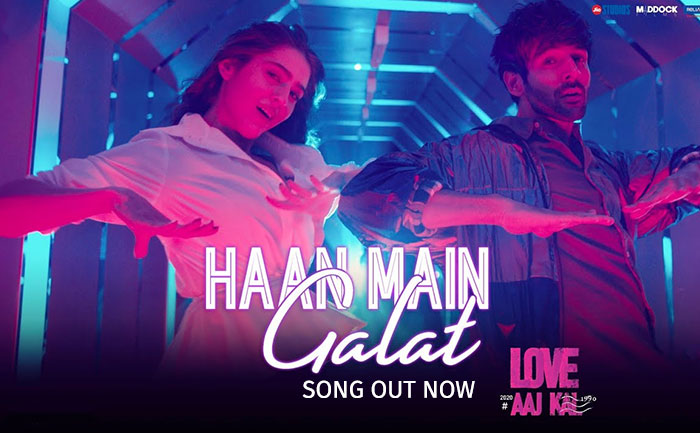 Kartik Aaryan and Sara Ali Khan have come together for Imtiaz Ali starrer 'Love Aaj Kal'. After treating us to the romantic track Shayad, the makers of Love Aaj Kal have dropped a peppy number from the film. The party song titled Haan Main Galat, song features Kartik Aaryan (Veer/Raghu), Sara Ali Khan (Zoe) and Arushi Sharma (Leena). The revamped take on Twist is bound to get you grooving.
Check out the song here:
Haan Main Galat has been sung by Arijit Singh and Shashwat Singh with lyrics penned by Irshad Kamil and music by Pritam. The song retains the hook tune from Twist song from Saif Ali Khan and Deepika Padukone starrer earlier film of the same name.
Crooned by Arijit Singh & Shashwat Singh, with lyrics penned by Irshad Kamil and music by Pritam. The video opens with Zoe and Veer aka Sara and Kartik riding on a bike and we get a glimpse of Leena aka Arushi Malhotra with Raghu.
Love Aaj Kal also stars Arushi Sharma and Randeep Hooda. The film has been shot in New Delhi, Rajasthan and Himachal. Directed by Imtiaz Ali, the story of the romantic drama has love stories spanning across two eras of 1990 and 2020. In one we get to see Zoe and Veer while in the flashback one, we see Leena and Raghu.
Love Aaj Kal will hit the screens on Valentine's Day 2020.
Also Read: Love Aaj Kal song Shayad is all about the innocence of first love.