Madhya Pradesh Assembly elections: Damoh villagers boycott polls, 'No Water, No Vote'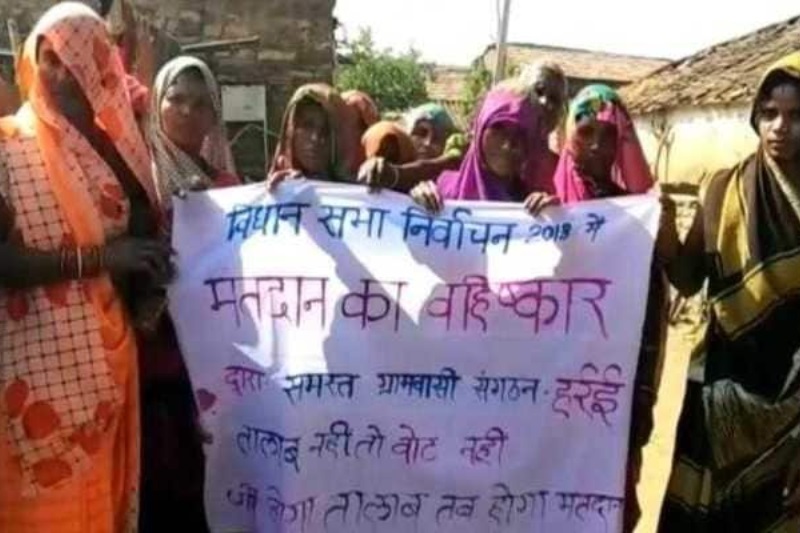 Elections in Madhya Pradesh will take place on November 28 and all the parties are making their preparations accordingly. However, all is not well in Damoh district of the state, where villagers are staging protest demanding clean drinking water. Even they have informed the administration to boycott polls if clean water is not made available to them.
Expressing agony over the lack of drinking water, a village sought the government to address their pending issues. A villager said, as quoted by ANI, "We are facing the problem of inadequate clean drinking water since 30-40 years. We have approached the district administration several times demanding a pond from where we (villagers) can fetch clean water for domestic use, but our demands have not been met. We won't vote if safe drinking is not provided to us. We have pledged to boycott the elections this time."
A girl, carrying a water container on her head, stated that there is scarcity of drinking water in their village. Due to which she has to travel 2-5 kilometres to fetch the water and most of the time she misses her classes. On being asked about the situation in summer, she said that villagers flee the place as there is no water even in the neighbouring villages.
Stating that they have informed about their issues to the local administration, but no action has been taken yet, another villager said, "We have raised this issue several times in front of Sub-Divisional Magistrate (SDM), Collector, and Member of Parliament (MP) but this has borne no fruit. We are suffering a lot. We have decided to boycott elections this time if no action is taken. We will also not vote for 2019 Lok Sabha elections if the situation remains persistent."
Walking though the roads to the villages, banners can be seen which state that they will boycott elections if safe drinking water is not provided to them.
Since, the state is considered to be the strongest centre of Bharatiya Janata Party after Gujarat and Uttar Pradesh, villagers threatening to boycott the elections might create an impact in the prospects of garnering maximum votes in the upcoming Assembly elections. The results of polls will be announced on December 11, along with four other states.
ALSO READ: Madhya Pradesh Assembly polls: BJP releases first list of 177 candidates, drops bigwigs