Maha Khumb Mela 2021: 31 lakh devotees participate in Shahi Snan
Around 31 lakh devotees participated in the Shahi Snan which was conducted at the river Ganga. Many have tested COVID-19 positive as they gather at the Maha Khumb Mela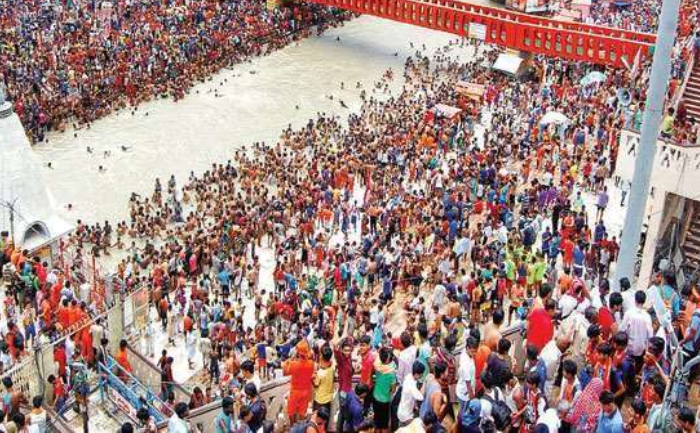 Over the last few weeks, India recorded a rapid surge in Coronavirus cases. The per-day tally of the fresh cases peaked to the highest count ever since the pandemic began in the entire nation. On Monday more than 1.68 lakh fresh cases were reported. The Uttarakhand government has organized the Kumbh Mela in Haridwar. Lakhs of devotees visited the Mela and took a holy dip in the Ganga river. On the second day of Mela, around 31 lakhs of devotees participated in the Shahi Snan, post which many tested positive for Coronavirus.
The Mahakumbh Mela administration reportedly claimed that more than 31 lakh devotees have taken a Ganga bath in the entire area from Haridwar to Devprayag. The Kumbh Mela Police Control Room stated that till 6 pm on Monday a total of 31 lakh devotees participated and they couldn't control people from breaking social distancing because of the crowd. The former king of Nepal also took a royal bath. According to media reports, Twenty-six people tested positive in the 9,678 random coronavirus tests which were conducted at the Mela, and apparently more tested are also being done.
Kumbh: Akharas, sadhus take part in second 'shahi snan' at Har Ki Pauri

Read @ANI Story |https://t.co/EfQynlnGZd pic.twitter.com/noNRVS5ZBk

— ANI Digital (@ani_digital) April 12, 2021
"We have been constantly appealing people to maintain social distancing and to carry masks. Due to such a huge crowd, it is practically not possible for us to issue the challans," said the Khumb Inspector General, Sanjay Gunjyal while talking about the crowd gathering.
For all the latest updates, stay hooked on to The Live Mirror.
Also Read:  Amarnath Yatra To Be Cancelled Due To COVID-19 Pandemic