Maharani Jindan Kaur's necklace sold for 187,000 pounds in London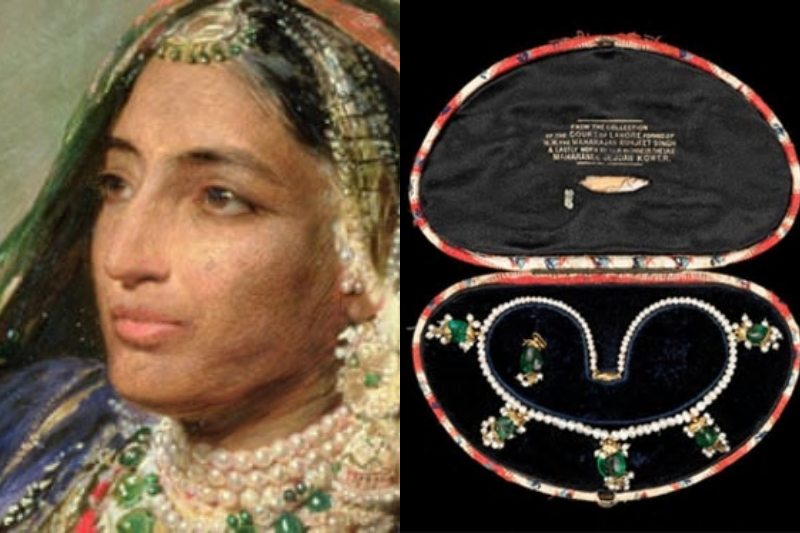 A beautiful and precious seed-pear necklace owned by Maharani Jindan Kaur was sold for 187,000 pounds at an auction in London on Tuesday. Notably, Maharani Jindan Kaur was the youngest wife of first Sikh emperor Maharaja Ranjit Singh.
According to reports, Maharani Kaur — who discarded Sati on Maharaja Ranjit Singh's death. The necklace surpassed its estimated price between 80,000 to 120,000 pounds.
The necklace was among the listed items to be auctioned from the Lahore Treasury as part of the 'Bonhams Islamic and Indian Art Sale' in London. "The entire sale had a number of items belonging to the Raj era — made an overall total of 1,818,500 pounds," the auction house said.
"In a highly successful sale, the Sikh treasures stood out with pride of place going to the magnificent necklace from the fabled Lahore Treasury that once belonged to the formidable and courageous Jindan Kaur," Oliver White, Bonhams Head of Indian and Islamic Art told PTI.
"The high price reflected fierce and competitive bidding in the room, on the phones and over the internet," White added.
As regent to her five-year-old son Duleep Singh, who was proclaimed Maharaja of Punjab in 1843, Kaur organised armed resistance to the British invasion but was captured and imprisoned.
Escaping to Kathmandu, Maharani was kept under house arrest by the King of Nepal, before eventually moving to England where she was reunited with her son Duleep Singh.
Among the other Sikh treasures on the sale included a gold-thread-embroidered, velvet-clad leather bow and arrow holder made for Maharaja Ranjit Singh.
"The quiver was made purely for ceremonial purposes and appears to have been rarely worn. As a result, it is in excellent condition," said White.
Also read: Allahabad renamed as 'Prayagraj' after 443 years