Maharashtra: Nearly 30,000 farmers, tribals set to start two-day massive protest march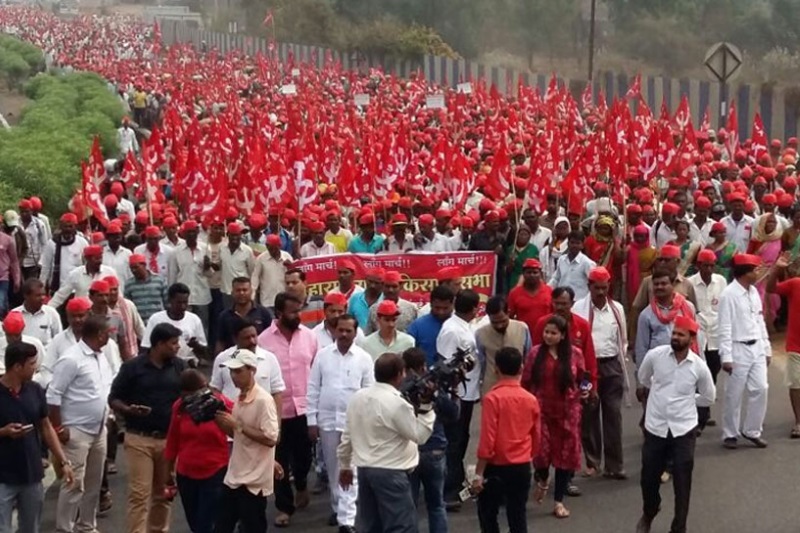 In a bid to support their long-pending demands, nearly 30,000 farmers and tribals will start their two-day massive protest march from Thane on Wednesday. Aam Aadmi Party's (AAP) Maharashtra unit extended support to the protest.
The March will today begin in Thane and will culminate in Azad Maidan. Farmers and tribals from North Maharashtra, Vidarbha, Ahmednagar and other parts of the state will take part in the protest. Water conservationist Dr Rajendra Singh, MP Raju Shetty, Lok Sangharsh Morcha general secretary Pratibha Shinde and others will take part in the massive protest.
The demands include the implementation of Swaminathan Committee Report, pending claims under the Forest Rights Act (FRA), minimum support price and setting up of a judicial system to ensure its implementation, complete farm loan waiver and drought compensation of Rs 50,000 per acre for non-irrigated land and Rs 1 lakh per acre for irrigated land and other issues.
Talking to the reporters, Lok Sangharsh Morcha general secretary Pratibha Shinde said, "When the farmers' long march was held from Nashik to Mumbai in March this year, the government had promised that all pending claims pertaining to FRA will be cleared in six months. But it has failed to keep its promise."
She further noted that non-transfer of the forest land on to the tillers' name has deprived many tribals from availing the benefits such as farm loan waiver, crop loan, drought compensation among others.
"Besides, the farmers are getting less than the MSP for their produce and there is no place where they can complain about it. So, there is a need to have a judicial system to keep check on whether the farmers are getting the MSP," she added.
Meanwhile, Aam Adami Party's spokesperson Dhananjay Shinde asserted that many parts of the state that are witnessing the drought have not been declared drought hit. "The government needs to look at the ground reality and announce drought in more affected areas," he added.
In the end, he further said the representatives of all religions would also take part in the protest on Thursday to stand with the farmers for their issues. Other parties such as Janta Dal (Secular), Peasants and Workers Party (PWP) have also extended support to the protest.
Also Read: Sabarimala row: Protesting devotees clash with media persons, one photojournalist injured