Mahira Sharma accused of forging Dadasaheb Phalke Film Festival Certificate
Former Bigg Boss 13 contestant Mahira Sharma has been accused of forging the certificate of Dadasaheb Phalke International Film Festival Awards 2020.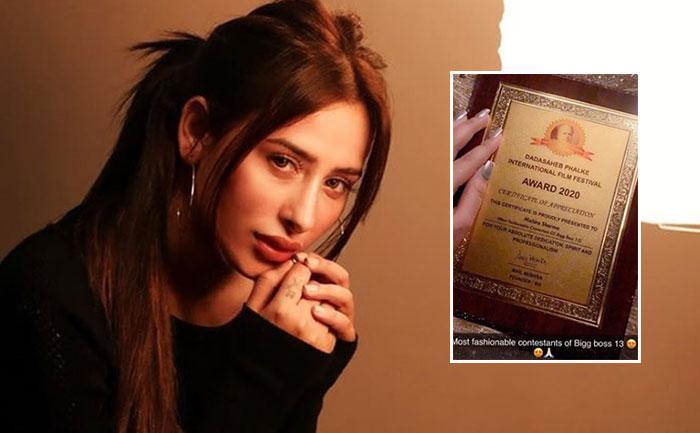 'Bigg Boss 13' contestant Mahira Sharma is on the headlines once again but for a wrong reason. Recently, the actress attended the 'Dadasaheb Phalke International Film Festival Awards 2020' and shared a photo on her Instagram story saying that she was awarded as the "most fashionable contestant of Bigg Boss 13." But, now she has been accused of forging the prestigious certificate.
As per the claims by DPIFF, the organizers have said that though she attended the ceremony, no such award was given to her and also accused Mahira Sharma of forgery.
Sharing the statement on Instagram, the makers wrote, "DPIFF OFFICIAL STATEMENT
Our official statement on @officialmahirasharma for forging the prestigious certificate of Dadasaheb Phalke International Film Festival Awards 2020″
Here's the official statement of DPIFF.
The statement said, "This immoral and distasteful attempt by Mahira Sharma to gain publicity and personal benefits by counterfeiting a very reputed award and showcasing her name on to a falsified category has created an irreversible damage to the brand's image and reputation. Also, to further the damage, multiple media houses and blogs have published this as news on their websites and blogs without verifying the source and its authenticity. These blogs are showcasing the person-in-concern holding the certificate with her name over the falsified category and are congratulating her for winning this title."
The officials have sent her a notice "asking to take down all the misleading PR activities done by her and her team" and also ordered the former BB13 participant to issue a public apology within the next 48 hours and if she fails to do so, they will initiate legal actions against her.
Meanwhile, Mahira Sharma has not responded to the charges yet.