Maldives: Air India flight stuck at airport after landing on wrong runway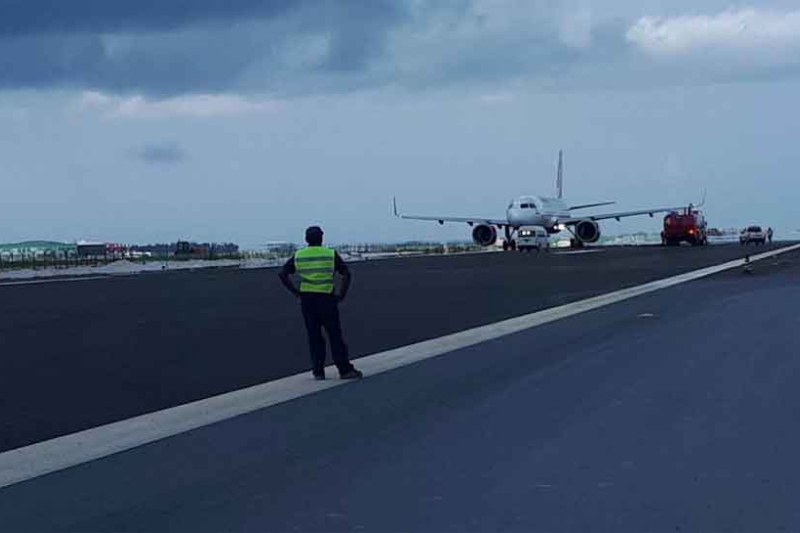 An Air India flight on Friday was stuck at the Maldives airport as it had mistakenly landed on a wrong, non-operational runway. The flight name AI263 was stuck at Male Velana International Airport in the Maldives.

Air India 320-NEO aircraft VT EXL had mistakenly landed on the wrong runway, which was new or not yet operational. All 136 passengers plus crew were rescued unhurt. Two main wheels of the aircraft were deflated while landing and later on it was towed to the parking bay.
Air India flight #AI263 landed at the nonoperational runway (under construction) at Male Velana International Airport in the Maldives: Flight24 pic.twitter.com/utL4XljH8D

— ANI (@ANI) September 7, 2018
A video footage of the incident also show that the cover on the runway got dangled in the wheels of the plane when it landed. The runway, where the flight landed was new and not yet operational. The runway signs and lightning have also been attached. It is expected to open for operation from this month.
BREAKING: Indian Air flight #AI263 got stuck after mistakenly landing on the new yet non-operational runway at Velana International Airport. pic.twitter.com/AzWtzWY9Gd

— Ali Shinan (@AliShinaan) September 7, 2018
"The new runway is 3,400 feet long and 60 meters wide. The 'Code F' standard runway will have the capacity to manage the largest airlines throughout the world. In 2015, more than 60 hectares of land was reclaimed to build the runway when the construct of the project," report says. 
Also read: Security Breach: British Airways hacked as 380,000 customer's information stolen