From Mango Ice cream to Mango Kulfi: Here are 7 Mango Dessert Recipes
Mango Dessert Recipes: Here are 7 recipes you can make at home.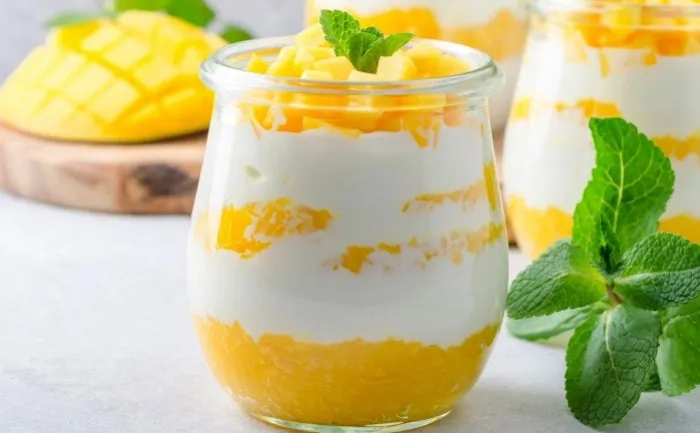 What's the greatest thing about summer? Certainly, mangoes! Juicy, delicious, and utterly divine, this king of fruits is much preferred and most looked forward to. During the sultry summer hotness, chilled and sweet mangoes come as quite a relief.
Mango is not only known for its sweet element but is also healthy in more means than one. Along with its rich tropical flavor, mangoes deliver a pack of nutrients too. Did you know? One 3/4 cup serving of mangos is just 70 calories, so it's a comforting, healthy sweet treat.
Well, this fruit not only has all the health benefits, but it is also a versatile fruit. There are a bunch of easy mango recipes that can be prepared at home. From mango pudding to mango salad, here are easy mango dessert recipes that can be prepared easily.
Here are 7 Mango Dessert Recipes:
Mango Icecream:
Recipe:
Peel and chop the mangoes and add them to a blender or mixer jar.
Blend till smooth.
Add sugar or powdered jaggery & vanilla extract along with the mangoes in a blender.
In another bowl begin to whip the cream with an electric beater.
Whip till you get soft peaks in the cream
Add the mango pulp to the whipped cream
Mix gently.
Pour the ice cream mixture into a freezer-proof container. Cover and freeze until set.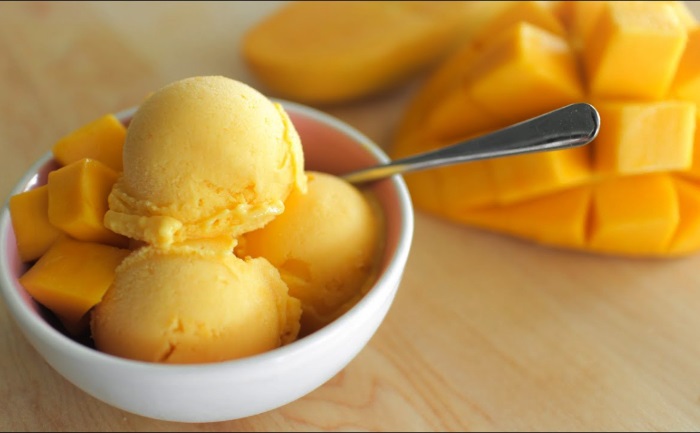 Mango Kulfi:
Recipe:
Wash and peel the mangoes. Chop them into pieces and add them to a blender.
Add chilled cream, saffron, condensed milk, and cardamom powder to the blender jar.
Blend them, until smooth.
Transfer to Kulfi or Popsicle molds.
Cover and freeze them overnight or until set
 Rub the molds between your palms or dip them in a bowl of water.
Gently remove the mango kulfi.
Garnish with crushed pistachio. Serve immediately.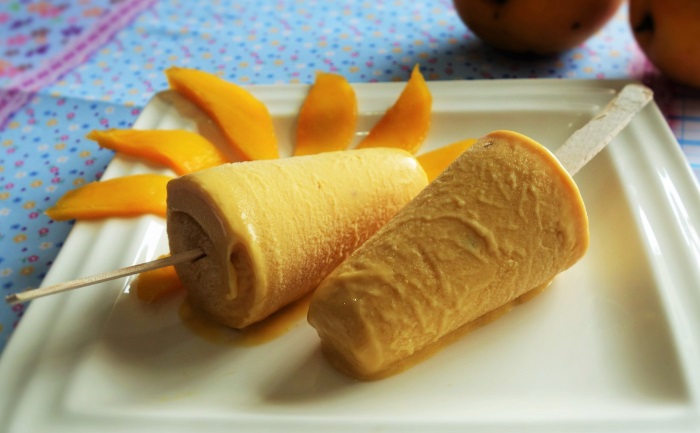 Mango Cake:
Recipe:
In a blender take 1 cup mango and ¾ cup sugar.
Blend to smooth puree dissolving sugar completely.
Transfer the mango puree into a large bowl.
Add ½ cup oil, 1 tsp vinegar, and ½ tsp yellow food color.
Using a whisk, mix well making sure everything is well combined.
Place a sieve and add 2 cups maida, 1 tsp baking powder, ¼ tsp baking soda, and ¼ tsp salt.
Sieve the flour making sure there are no lumps.
Mix well using the cut and fold method.
Now add ¼ cup milk and mix until the batter is combined well.
To prepare the cake in a pressure cooker add in 1½ cup of salt and close the lid of the cooker without keeping the gasket and whistle. Heat for 5 to 10 minutes, it gives a preheat oven atmosphere.
Transfer the cake batter to a cake mold
Place the cake pan into a preheated cooker.
Cover and cook on a medium flame for 45 minutes. You can alternatively, preheat and bake at 180-degree celsius for 45 minutes.
Cool the cake and then unmould the aam cake.
Finally, enjoy eggless mango cake as it is or decorate with frosting.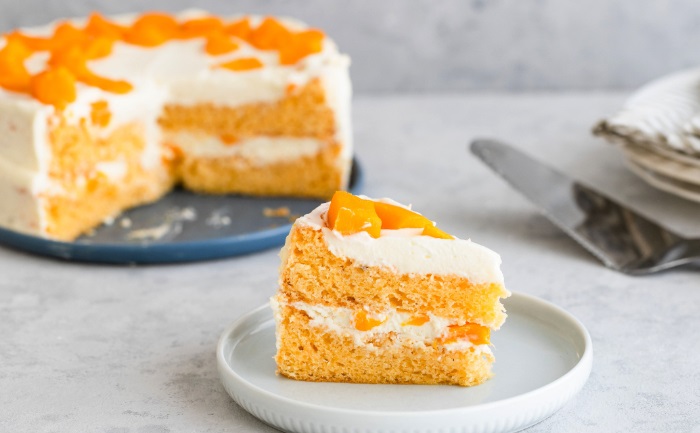 Mango Milkshake:
 Take the chopped mangoes, sugar, and saffron strands in a blender.
 Grind to a smooth paste.
 Now add in the cold milk and run the blender again till everything is nicely mixed together.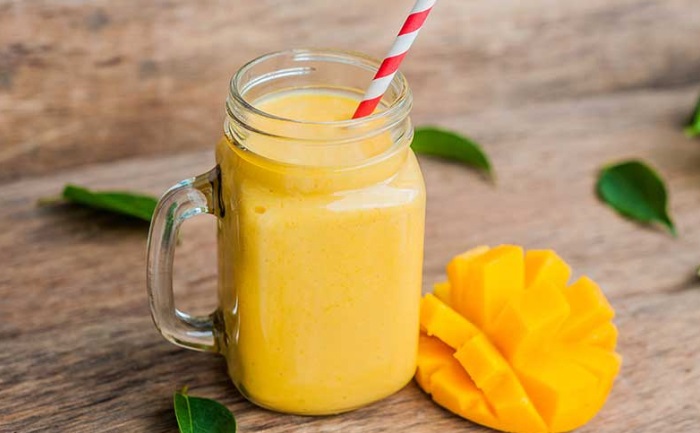 Mango Mousse:
In a blender, add the chopped mangoes. At this step, you can also add sugar or honey.
blend till smooth.
Take cream in a bowl. You can use an electric beater or whip manually with a whisk.
Beat till the cream is soft and fluffy. Ensure you don't over whip the cream.
Add the mango puree to the beaten cream.
Mix well.
Serve them right away or refrigerate 2-3 hours and serve them chilled with whipped cream.
Garnish the mango mousse with chocolate shavings or chopped dry fruits.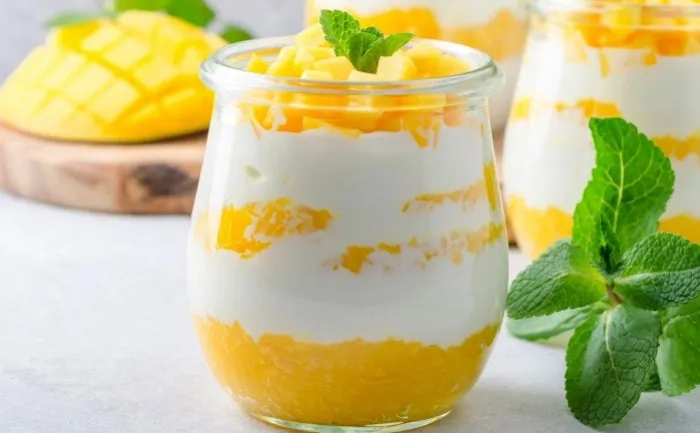 Mango Shrikhand:
Recipe:
Whisk the greek yogurt in a bowl
Chop the mangoes and whisk them in a bowl
Peel the cardamom and crush the seeds using mortar and pestle. Set aside.
Dissolve the saffron strands in 1 teaspoon of water or milk.
In a bowl mix together greek yogurt, mango puree, sugar and whisk till sugar is dissolved and yogurt and mango puree are well combined.
Add the crushed cardamom seeds, saffron strands and mix.
Pour the mango shrikhand in serving bowls and garnish with chopped pistachios/cashews.
Chill the serving bowls in the refrigerator before serving.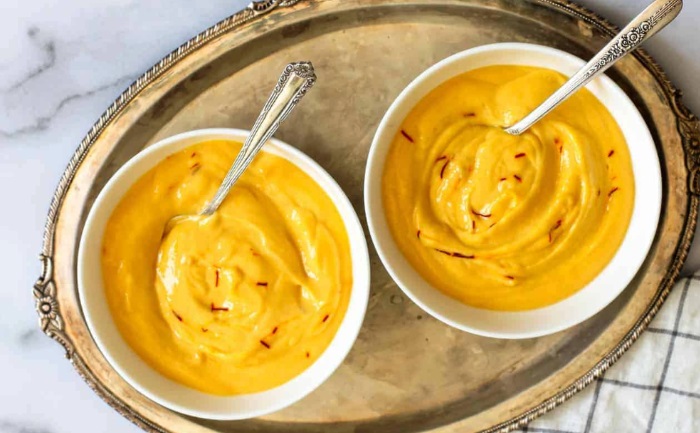 Mango Pudding:
Recipe:
Pour gelatine and add cold water. Let it soak for 10 mins.
Take another bowl, add water and bring to a boil. Switch off the flame and add soaked gelatine.
Add sugar, condensed milk, mango puree, and mix well.
Grease a bowl and add the mixture into it. Put it in the fridge for 2 hours to set.
& the Mango Pudding is ready!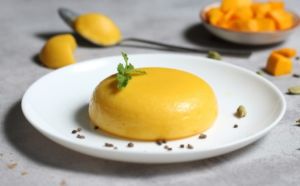 Stay tuned to The Live Mirror for more such updates.