Manmadhudu 2 Movie Review: Twitterati declare it double disaster
Director Rahul Ravindran's Telugu movie 'Manmathudu 2' is a romantic comedy film starring Akkineni Nagarjuna and Rakul Preet Singh.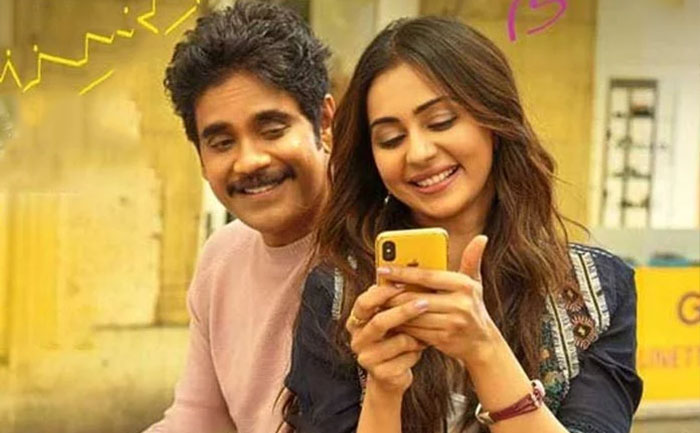 Akkineni Nagarjuna and Rakul Preet Singh starrer 'Manmadhudu 2' hit the theatres today on 9th August and the film has opened to pretty bad reviews from the audience who are tweeting about it. The audiences are not happy with 'Manmadhudu 2' and calling it a double disaster.
'Manmadhudu 2' is a romantic comedy film which is produced by Nagarjuna Akkineni and P Kiran under the banners Annapurna Studios, Anandi Art Creations and Viacom18 Motion Pictures and directed by Rahul Ravindran.
The film is an official remake of a French movie I Do (2006) of Alain Chabat and its title is inspired by Nagarjuna's original movie Manmadhudu (2002). Download Manmadhudu 2 Telugu Full Movie  
Watch the trailer below:
'Manmadhudu 2' shows that the film is about Nagarjuna's character, who has commitment issues. Nagarjuna plays Samba Siva Rao aka Sam. He lives with his best friend-cum-assistant Kishore, who spends half the time running in the middle of the night to buy condoms and passes double-meaning dialogues.
His family consists of his mother and three sisters and they want him to get married and they give him an ultimatum and, later, he comes up with a plan and takes the help of Avantika (Rakul Preet Singh) to pretend to act as his girlfriend and ditch him on the day of the wedding. But things don't go as planned and Sam faces a life-altering situation. The film traces the love story of two contrasting characters in a humorous manner.
Another major issue with 'Manmadhudu 2' is that it doesn't know whether it wants to be an adult comedy or a romantic comedy.
Here's what fans are saying on social media about Nagarjuna and Rakul Preet Singh's Manmadhudu 2.
#Manmadhudu2 is an absolute insult to the #Manmadhudu.

— Sushanth Nallapareddy (@sushanthreddy) August 9, 2019
?Naming streets with castes

?Nicknaming a person based on region he/she belongs to

Slut shaming a woman

Abuses related to mother and sister and the list goes on

And few people related to #Manmadhudu2 talks about progressive thought process and questions others upbringing?‍♂️ pic.twitter.com/Fxp15wq54j

— Movies Box Office (@MovieBoxoffice5) August 7, 2019
Real feminism @Chinmayi #IstandWithChinmayi#Manmadhudu2 pic.twitter.com/QVIDJC4Sro

— Senpai Anna (@Senpai_Annaa) August 9, 2019
They Should've chosen better writer #Manmadhudu2
The only talk coming out is Double Meaning Comedy

— Serendipity ❤ (@PoornaPradeep4) August 9, 2019
#Manmadhudu2 one of the biggest disaster in @iamnagarjuna films.#Manmadhudu2 will be end the run in with in One week#Manmadhudu is classic film.#Manmadhudu2 is B grade film.
Liplock scenes
Double meaning dialogues which is not expected from a star hero like @iamnagarjuna garu https://t.co/DRtPRwWD2x

— Suresh Konatham (@SureshKonatham2) August 9, 2019
ALSO READ: Rakul Preet Singh Gets Massively Trolled For Her Photo In Unbuttoned Jeans