Matthew Perry to Jennifer Aniston: 'Friends' stars who dated their co-stars in real life
Curious to know which 'Friends' cast members dated? Read to know the list of co-stars who were in a relationship off-screen.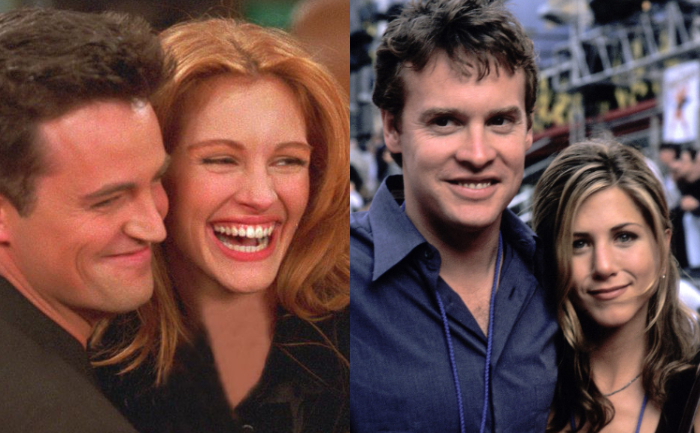 The popular American sitcom, Friends has always given us some serious couple goals, but while some of these iconic on-screen romances will be remembered forever, did you know that the cast members were dating OUTSIDE of the film set?
Jennifer Aniston and Brad Pitt:
Aniston met Brad Pitt in 1998 and after two years of dating, on July 29, 2000, in a lavish Malibu wedding. In 2005, they finalized their divorce. Brad appeared on the show as Will Colbert in the episode titled The One with the Rumor' in 2001.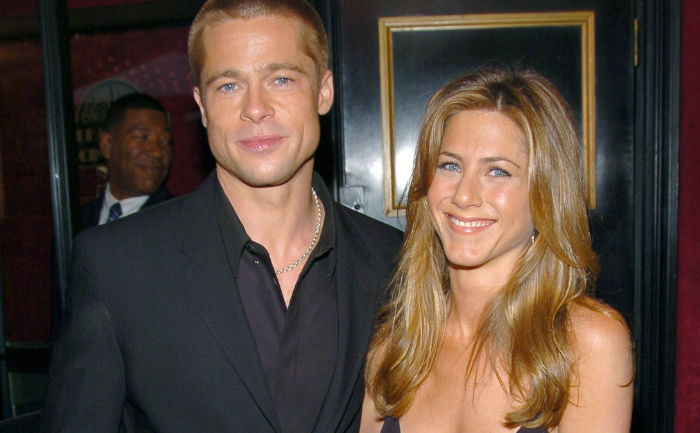 Jennifer Aniston and Tate Donovan:
The duo between 1995 and broke up in 1998. The actor was her first serious boyfriend. In the show, He played Rachel's Bloomingdale client, Joshua. Tate also spoke about how difficult it was to show up on set.  "We were broken up and the producers were like, 'Hey would you wanna do six episodes of the show?' And I was like 'Maybe it would be good to work through this breakup, It was horrible. It was so tough, man. I remember just getting back to my dressing room and just weeping," he told the Huffington Post.
Jennifer Aniston and Paul Rudd:
Paul Rudd played Mike Hannigan, boyfriend to Lisa Kudrow's Phoebe Buffay on the show. Aniston and Paul Rudd dated briefly in 1998 after meeting on the set of 'The Object of My Affection.' Neither one of them accepted, however, In an interview with GQ magazine, they were asked if kissing each other on-screen was weird, to which Jennifer replied, "Nah. I've kissed him for years." Paul said, "We've made out for decades." but these answers were in reference to the films they had done together.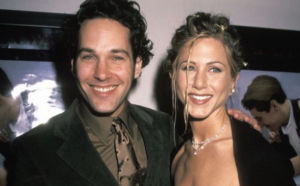 Matthew Perry and Julia Roberts:
Julia Roberts played Perry's love interest Susie Moss in the episode titled 'The One After the Super Bowl.' After filming wrapped, the two actors stayed in touch and eventually began a romantic relationship. The duo was in a relationship for about one year. Perry had to write and submit a paper on quantum physics to Roberts in order for her to appear on the show.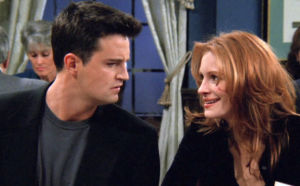 Matthew Perry and Yasmine Bleeth:
Matthew Perry and Yasmine Bleeth date in 1995. Every 'Friends' fans will know that his character Chandler was obsessed with the Baywatch star.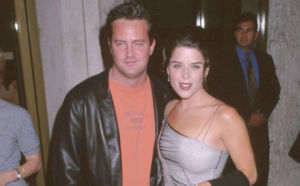 Courteney Cox and David Arquette:
David Arquette was seen in 'Friends' as Phoebe's stalker's role. H played the role of Malcolm, who is originally Phoebe's sister Ursula's stalker but ends up stalking Phoebe by mistake. However, many may not know that Courtney married David on June 12, 1999. Soon after their wedding, the makers added 'Cox' to their last names in the credits of the episode that aired.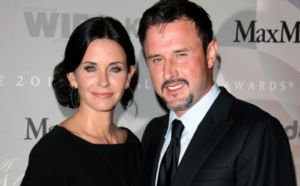 ALSO READ: 'Friends: The Reunion' To Premiere In India At THIS Time