Meaning Of Vamika: Virat Kohli-Anushka Sharma Share First Pic And Name Of Their Daughter
Anushka Sharma And Virat Kohli Have Finally Posted The Picture Of Their Daughter, Vamika. Here Check Out The Meaning Of The Name, Vamika And Its Numerology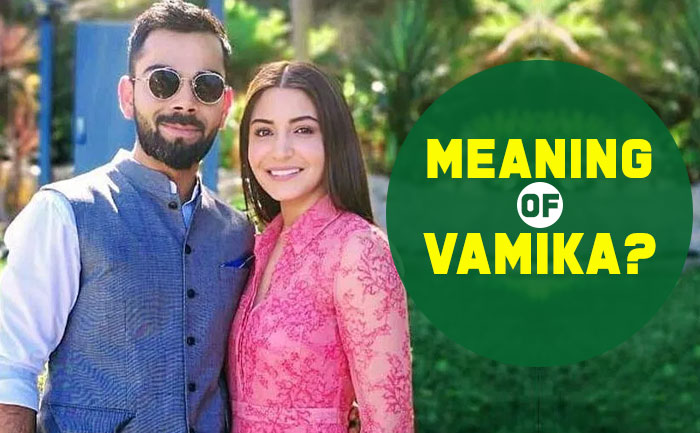 Star couple, Virat Kohli and Anushka Sharma have welcomed their newly born on Jan 11 and the couple have named their little bundle of joy Vamika. Proud mother, Anushka took to her Instagram handle today and shared an adorable picture with the little one. Alongside sharing the first ever picture of her daughter she revealed the name to the fans. Virushka fans just can't stop adoring the baby girl, however, fans have also been curious to know about what is the meaning of name Vamika and its origin. Have Anushka Sharma and Virat Kohli named their baby girl Vamika because the name is an output of combination of their names?
Meaning of the name-Vamika:
Vamika is a Hindu name which has its origin from India(Sanskrit). It generally means Goddess Durga and it is also referred to Parvati. Vamika is a feminine name and it falls under the zodiac sign Vrushabh (Taurus). It has dominant planet Venus (Shukra) and Nakshatra (stars) Rohini.
Virat Kohli and Anushka Sharma probably have named their baby girl as Vamika, because it could also be the name which is the result after combing letters from their own names. Borrowing 'Va' from the father and 'Ka' from the mother, name Vamika can be made. The name on its own also has a strong meaning and the origin that is related to the goddess Durga. The names own meaning signifies welcoming goddess to their home. B-town celebs such as Aishwarya Rai-Abhishek Bachchan, Shahid Kapoor-Mira Rajput have also used the same technique to name their kids i.e. Aaradhya Bachchan and Misha Kapoor respectively.
Numerology of name Vamika:
Virat Kohli and Anushka Sharma welcomed their little princes on January 11 and the numerical for the Vamika is 3. Generally, this lucky number 3 reflects to a strong personality. According to the numerology people with name Vamika possesses magical creative talent, great self-esteem, charming abilities and great sense of humor. People with such name are easygoing, loveable and are known for their love towards art.
After Anushka Sharma shared the first ever picture of baby Vamika on her Instagram, netizens including celebs started pouring in blessings for their little one. Three of them shell out family goals for us.
View this post on Instagram
For more such updates, stay hooked on to The Live Mirror.
Also Read: Anushka Sharma, Virat Kohli's Baby Girl's Name REVEALED; Share First Photo