Mercury crosses 41 degrees in Delhi, respite by weekend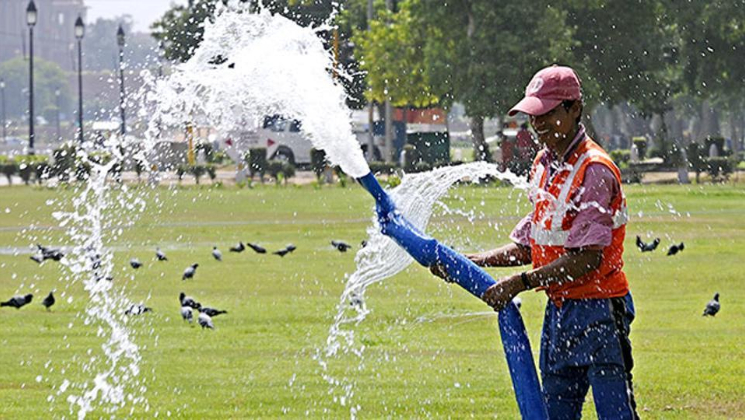 The national capital on Thursday sizzled at 41.4 degrees, a notch above the season's average as mercury soared by five degrees over past 24 hours. The Met however predicted respite after two days. The maximum temperature on Friday is expected to hover around 40 to 41 degrees, Met said. The mercury is however expected to drop on Saturday, with Met forecast suggests thunderstorm and rain showers in the city. "Rain, thundershowers along with strong winds are expected towards Saturday and Sunday, which is likely to bring respite for the people," an official at India Meteorological Department (IMD) reported.
The minimum temperature on Thursday was 29.2 degree Celsius, a notch above the season's average. Palam at 42.4 degrees was the warmest region in Delhi, followed by Ayanagar at 41.5 degrees, Ridge at 41.3 and Narela at 40.8 degree Celsius. Both Gurugram and Faridabad sizzled at 41.4 degree Celsius. The air quality of Delhi was moderate on Thursday, with ozone and particulate matters being the major effluents in the air. Wednesday's maximum temperature was recorded 36.6 degree Celsius, four notches below the season's average, while the minimum temperature was recorded at 28.5, a notch above the season's average.
"The effect of the easterly winds has not been that much. We were expecting a maximum of around 43 to 44 degrees but it was even higher in the previous week. This was Palam's highest maximum this season as well," said Kuldeep Srivastava, scientist at the regional Met office.
Officials say only light rain is expected, and cloudy skies and gusty winds should bring the maximum down by 3 to 4 degrees. "We expect some drizzle activity overnight and on Wednesday evening. The maximum may fall to around 41 degrees Celsius," said an official forecasting the weather for the current week previously.