Mission Impossible 7: Tom Cruise performs dangerous stunt on moving train
Tom Cruise's daredevil stunt on a moving train for 'Mission: Impossible 7' goes viral; watch videos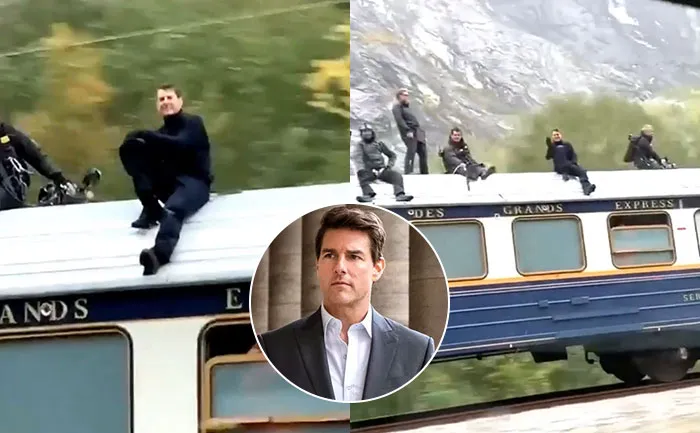 Tom Cruise is known for performing high octane action sequences in his films. The actor has resumed the shoot of the film in Norway and his new action scene seems to have gone viral on the internet. After hanging off an airplane and the Burj Khalifa, the dashing star is now seen performing a dangerous stunt on a moving train for his hit franchise.
Multiple fans spotted Tom and the movie's crew in Norway, riding on the roof of a train. He is secured with some harnesses as is the rest of the stunt crew.
Check out the viral videos and pics here:
Taking to Instagram, director Christopher McQuarrie shared a still from the action sequence.
McQuarrie wrote "Norway's scale and beauty have left an indelible and defining imprint on our film and remind us that anything is possible. On behalf of everyone working on Mission: Impossible, our sincerest thanks to The Norwegian Film Incentive, The Norwegian Railway Museum, the infinitely patient Stranda and Rauma Municipalities, our endlessly enduring Norwegian crew, along with everyone who supported our filming here. And, of course…The Mountain."
An onlooker, who goes by the name of Fotokjerring on Instagram, shared a video taken from her car, showing the crew preparing for the scene.
Check out the viral video here:
The video shows the crew setting up the scene while Cruise discussing the shot with one of the members.
In another video, shared by actress Hayley Atwell, the actress revealed she standing on top of the train and shooting the clip. "here's Norway in all its splendour. #setlife #missionimpossible yes, I'm standing on top of a train. #fitforpurpose," she said, sharing the video.
'Mission: Impossible 7' also stars Rebecca Ferguson, Ving Rhames, and Simon Peg in pivotal roles. The movie will reportedly release on 19th November 2021.
Also Read: Mission: Impossible 7: Tom Cruise Restarts Shoot in Norway, See Pic