Mithun Chakraborty joins BJP ahead of PM Modi's mega rally in Kolkata
Actor Mithun Chakraborty's Meet With BJP Leader Ahead Of PM Modi's Mega Rally In Kolkata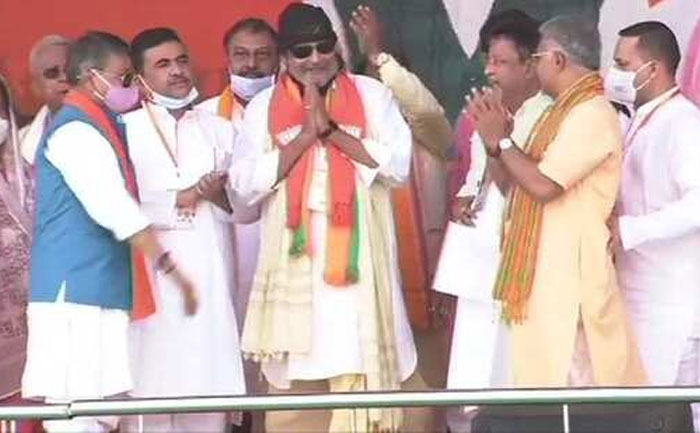 Actor Mithun Chakraborty ended all speculation on Sunday as he joined the BJP ahead of PM Narendra Modi's mega rally in Kolkata. The actor reached Brigade Parade ground in Kolkata and joined the Bharatiya Janata Party (BJP). PM Modi will today hold a mega rally which is scheduled to start at 2 pm. The move comes weeks ahead of the state Assembly polls scheduled for March-April.
Mithun Chakraborty was handed the party's flag by Mr Vijayvargiya and state BJP chief Dilip Ghosh.
West Bengal Assembly polls: Actor Mithun Chakraborty joins BJP

Read @ANI Story | https://t.co/PfA1sibymP pic.twitter.com/znmp5xDSJZ

— ANI Digital (@ani_digital) March 7, 2021
The 70-year-old has a huge fan following in the state. The fan following reached a new height after his 2006 film, MLA Fatakeshto.
Mithun Da as he is lovingly addressed by his fans was earlier a part of the Trinamool Congress (TMC) in 2014. But his political sting was, short-lived, as Chakraborty resigned citing health reasons in 2016. The actor who was a Rajya Sabha member had quit after getting embroiled in the Sharda Chit Fund case.
PM Modi's Kolkata rally will not only have the Disco Dancer in attendance but also many other artists. As per ANI reports, The event is also likely to feature many folk artists. Along with the 72-feet long main stage, two other stages have also been set up, one for Tollywood actors and another for other important personalities.
Elections to West Bengal's 294-seat Assembly are scheduled to be held in eight phases from March 27 to April 29 and the results will be declared on May 2.
Also Read: Mithun Chakraborty collapses on the sets of The Kashmir Files; shoot comes to halt