'Lotus' to bloom at expense of Congress' 'dal-dal': PM Modi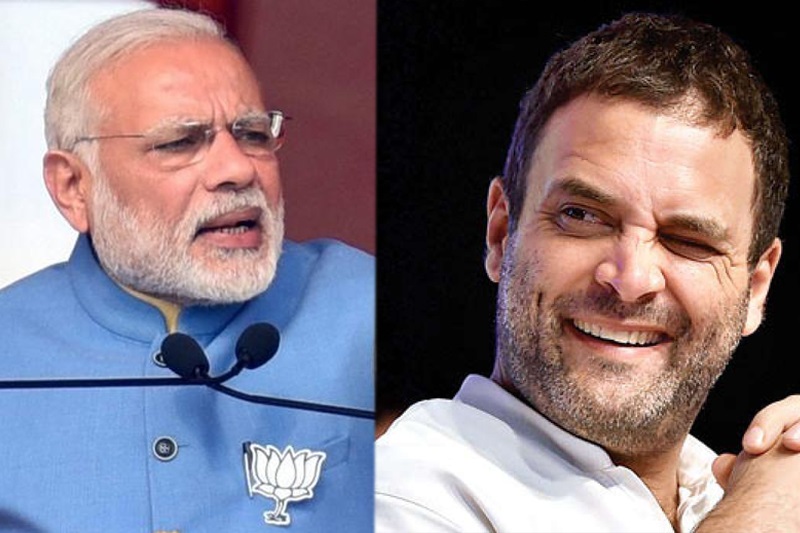 Prime Minister Narendra Modi is one of a kind. He excels in deriving new slogans and naming people with this remarkable analytical sense while taking on opposition and this time too, he did the same by calling the opposition unity as 'dal-dal' (marshy land), which would help the 'lotus' to bloom. Modi who was addressing a Kisan Rally in Shahjahanpur in Uttar Pradesh, layed the foundation for the BJP's 2019 Lok Sabha election rallies.
Addressing the Kisan Rally on Saturday, Modi did not miss a single chance to target Rahul Gandhi and its coalition parties, who are planning to take on Bharatiya Janata Party in the upcoming polls in 2019.
In an attempt to take a jibe, Modi called the coalition a marshy land, which will help the 'lotus to bloom'. He said, "There is not just one 'dal' (political party) but dal over dal resulting in "dal-dal" (marshy land) which will only help the 'lotus' bloom."
Though Modi's rally was to boast BJP's schemes on hiking the MSP of crops, increasing price for sugarcane and provide money for dues of sugar factories, but his focus was different. He took the opportunity to target Rahul Gandhi and all the political parties merging with Congress to take on BJP.
PM Modi doesn't like 'unwanted hugs', particularly from the opposition party leaders and he made these clarifications publically at a Kisan Rally in Shahjahanpur on Saturday. Referring to the Congress president embracing him after his speech during the 'No Confidence Motion' at the Monsoon Session on Friday, PM Modi said that since Gandhi could not answer his questions, he was given an 'Unwanted Hug'.
Addressing a Kisan Rally, the Premier said, "Yesterday in Parliament we kept asking them (Opposition) please tell us why this no confidence motion? When they could not give a reason, they gave an unwanted hug (Jab karan nahin bata paye, gale pad gaye)."
Alleging that Congress is only hungry for power, Modi stated that nothing concrete was done in the previous tenure of the Congress governments for the welfare of farmers. He questioned the mass if they were satisfied with the proceedings and alleged the Congress party favouring the 'Parivaarwaad' (dynasty rule). He said, "They cannot see anything other than the PM's chair. Have I done anything wrong? I have been doing everything for India. My crime is I have been fighting against corruption and dynastic rule (Parivaarwaad)."
With things not going in the favour of the ruling-BJP, and Rahul Gandhi revamping himself into a strong leader, looks like the wrist is shaking the roots of lotus plant. The 'dal-dal' might be apt for lotus to bloom, but this 'dal-bal' (party power) with powerful wrists might shake the steps and likely to uproot it. Let 2019 come and it would be clear whether 'lotus' will bloom or 'wrist' will uproot it.