Money Heist Season 3: Release Time, Episodes, How to Watch La Casa de Papel Part 3
La Casa de Papel Part 3: Here's when and how you can watch the Spanish heist drama on Netlflix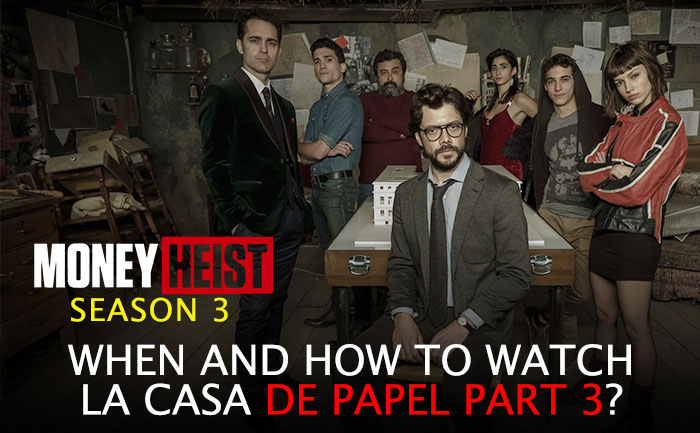 The third part of Money Heist that is a Netflix Global Original will premiere on July 19, 2019. Fans of the Spanish heist drama are waiting in anticipation to know what happens in season three of the popular thriller. The last series of the Spanish Language drama that is also known as 'La Casa de Papel' was released in April 2018. It was released in two parts followed the biggest bank heist in history. Season three will pick in the aftermath of the crime as the characters deal with the consequences of the heist.
Money Heist Season 3: Release Date, Episodes, Cast, Trailer and Plot
What time is La Casa de Papel out on Netflix?
Netflix has announced that Money Heist season three will be released on the streaming platform on Friday, July 19. It will be released at midnight California time (Pacific Standard Time) as this is where the Netflix headquarters are located. The eight episodes of Money Heist season three will be released at 8:00 am British Summer Time in the United Kingdom. The release time in your individual country will depend on your time difference from California, USA.
How many Episodes are in Money Heist Season 3:
Part three of the crime-thriller drama will feature eight episodes.
All eight episodes of Money Heist's new series will be streaming at once.
Money Heist (original title La Casa de Papel) part three episodes are also available to download from Netflix.
What Will Happen In The New Season:
As per Variety, "Rio (played by Miguel Herran) is captured by Panama patrol boats. The gang gets together to free him. How? By dealing a fatal blow to the system.
The teaser also revealed a shock return as Berlin (Pedro Alonso) appeared to be back from the dead.
However, among all these new developments, there will still be another heist as the group try to rob The Bank of Spain.
The cast of Money Heist Season 3:
Most of the major characters will be returning for series three, including Álvaro Morte as El Professor, the criminal mastermind behind the initial heist. Fans can also expect to see Úrsula Corberó back as Tokio and Itziar Ituño as Raquel Murillo.
Among the new cast members for La Casa de Papel season three are Bogota (Hovik Keuchkerian), an old friend of the Professor.
Other new cast members include Alicia (Najwa Nimri), Palermo (Rodrigo de la Serna) and Marsella (Luka Peros).
The Money Heist season 3 is streaming from July 19 on Netflix.
The third part of Money Heist is a Netflix Global Original. Therefore you can watch episodes of the show only on it.
The episodes are expected to be between 45 minutes and an hour in length.
The Money Heist season three episodes are as follows:
Episode 1: We're Back
Episode 2: Aikido
Episode 3: 48 Meters Underground
Episode 4: Boom, Boom, Ciao
Episode 5: The Red Boxes
Episode 6: Everything Seemed Insignificant
Episode 7: A Quick Vacation
Episode 8: Astray
Here is the official trailer of the Netflix Heist Drama Money Heist season 3:
Also Read: Netflix to launch a cheap monthly mobile subscription for India