Monthly salary: Taimur's nanny gets as much PM Modi does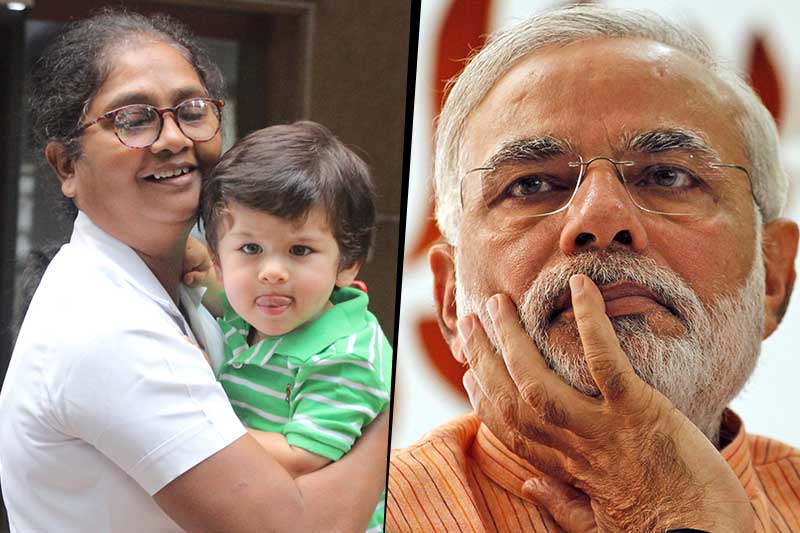 Taimur is easily the cutest baby of B-town and hence the paparazzi's favourite as well. If you've ever seen any of Taimur's pictures, then one person is always seen with him. It's none other than Taimur's nanny.
Taimur's nana, Randhir Kapoor had once said, "Every day I get up in the morning, and I see a picture of my grandson in the newspaper. The paparazzi are permanently stationed below the house. Now, everyone recognises his maid also! That's because of the paparazzi."
Now, I will tell you something taht will blow your mind away. According to a media report, "Taimur's nanny draws a basic salary of Rs 1.5 lakh a month. It can go up to Rs 1.75 lakh depending on the extra hours she's spent at his home. There is an over-time fee for every extra hour spent with the child. Plus, she has a car at her disposal to take the child in and around Bandra".
Taimur's nanny, apart from receiving such high-paying checks every month, also enjoys other luxuries like- a high-end car allotted for her and Taimur, and of course, the foreign trips and vacation! Who wouldn't want to be Taimur's nanny now?
It's not done yet. What if I tell you that it is equal to Narendra Modi's salary. Yes!
Taimur's nanny was provided to the Kapoors by a high-profile agency in Juhu which deals in the recruitment of servants and maids for the many star families in Mumbai. As per reports, Tusshar Kapoor and Soha Ali Khan have also got their housemaids from the same agency. An entire process of police verification and background check is run before hiring so that the parents of these star kids do not have any stress on their minds.
Also read:In Pics: Kareena Kapoor, Saif Ali Khan and Taimur chill in Maldives with Soha, Kunal and Inaaya