Gandhi Jayanti 2020: Check Out The Movies Based On The Life Of Mahatma Gandhi
On The Occasion Of Gandhi Jayanti Today, Watch THESE Movies Which Are Made On The Life Of Mahatma Gandhi And His Philosophies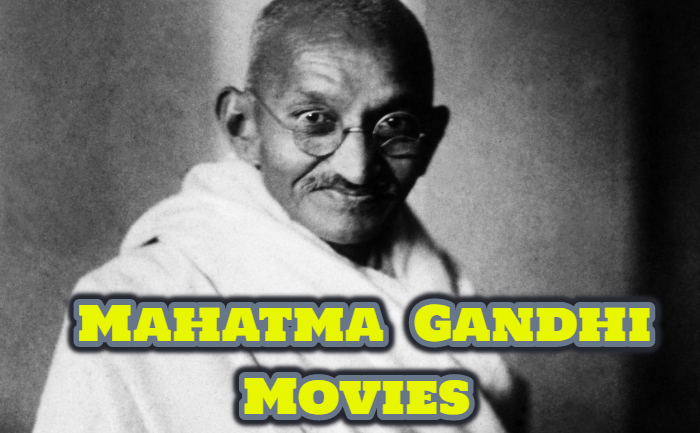 Today marks the birth anniversary of India's legendary freedom fighter, Mahatma Gandhi. Mohandas Karamchand Gandhi was born on October 2, 1869 in the state of Gujarat. He is known across the world after his values and his non-violence way of leading life. He is the Father of the Nation in India and the United Nations General Assembly (UNGA) had declared Mahatma Gandhi's birthday as 'Gandhi Jayanti' (the International Day of Nonviolence) in 2007. A lot of movies have been made on his life and his philosophies. On his Birth anniversary today, watch these movies if you are big time Gandhian.
Check Out The Movies Made On Mahatma Gandhi:
Gandhi My Father
The movie highlighted the turbulent and troubled life of Gandhi's son, Harilal. He at once tried to support his father's ideology, while also trying to create a life for himself separate from his family identity. The movie featured Akshaye Khanna, Bhumika Chawla and Darshan Jariwala in the key roles. The film, 'Gandhi My Father' was bankrolled by Anil Kapoor and it was helmed by Feroz Abbas Khan.

The Making Of The Mahatma
The movie, 'The Making Of The Mahatma' is set in the backdrop of the fighting a case in South Africa, Mohandas Gandhi, a London-trained barrister experiences racism. He then fights for the rights of Asian labourers, before taking a stand for India's independence. The movie traces difference time period from his life. The film was helmed by Shyam Benegal and it was Indian-South African joint produced film. The film featured Rajit Kapoor and Pallavi Joshi in the key roles.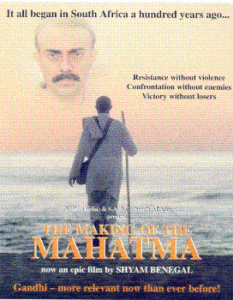 Hey Ram 
'Hey Ram' is a fictional Indian movie, which tells the story of Saketh Ram(portrayed by Kamal Hassan), a disillusioned man who tries to kill Mohandas Gandhi (portrayed by Naseeruddin Shah). After sectarian violence claims the life of his wife, Aparna (portrayed by Rani Mukharjee), Saketh becomes a Hindu extremist. Although some other people were responsible for his wife's death, he begins to blame Gandhi and his tolerant approach to religious differences. The film was helmed by Kamal Haasan himself and it was also co-produced by him.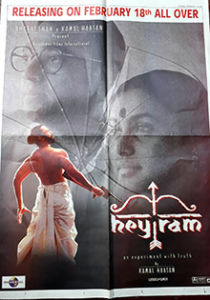 Gandhi
This well acclaimed biographical film, 'Gandhi' features several events from the life of Mohandas Gandhi (portrayed by Ben Kingsley). The Indian leader, who stood against British rule over his country, dedicated his life to the nonviolent way of living. Gandhi was initially dismissed by English officials, including the influential Lord Irwin (portrayed by John Gielgud), however, later his cause become internationally renowned. His gatherings of passive protest move India towards independence created a momentum. The film was helmed by Richard Attenborough and it was produced by production houses from India and United Kingdom.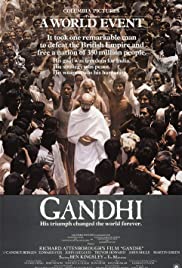 Lage Raho Munna Bhai
'Lage Raho Munna Bhai' is a modern movie which beautifully represents Gandhi's philosophies. The plot of the movie revolves around the life of a beautiful radio jockey (portrayed by Vidya Balan), who believes that her roguish boyfriend, Munna Bhai ( portrayed by Sanjay Dutt), is a history professor. Munna's life turns upside down, when his girlfriend asks him to give a history lecture. Munna with his best friend, Circuit ( portrayed by Arshad Warsi) goes on to do some fancy footwork to maintain his image and they end up becoming a true Gandhian. The film was helmed by Rajkumar Hirani and it was produced by Vidhu Vinod Chopra.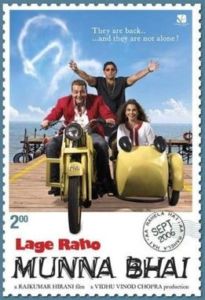 Also Read: Gandhi Jayanti 2020: Top 10 Most Inspiring Quotes Of All Time