Mumbai Geli Khadayat: RJ Malishka's new 'Zinghat' parody targets BMC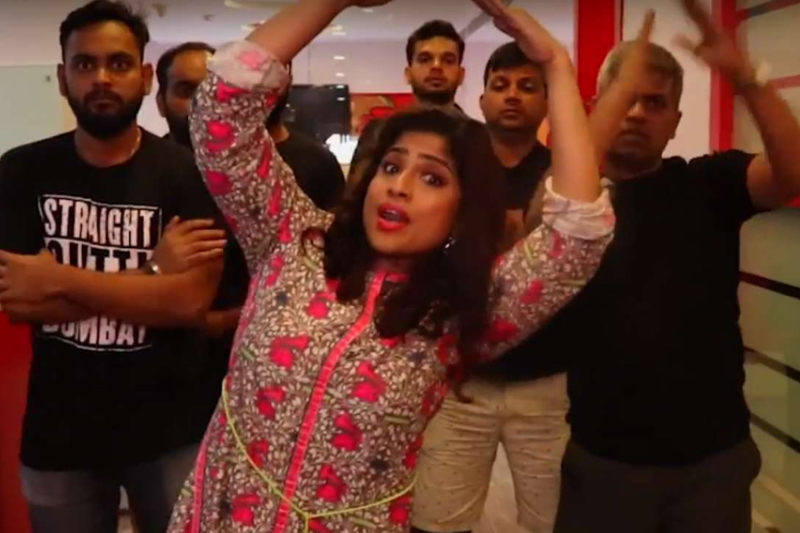 RJ Malishka, who made the headlines last year with her song 'Sonu' which targeted the pothole problems in Mumbai, returns with a new hit parody of the song 'Zinghat'. Malishka has been attacking the BMC through these parodies and facing backlash as well. In the last two months of monsoon, various accidents in the city and suburbs have occurred due to potholes and have claimed lives of almost half a dozen people. Well! This new parody on Mumbai rains and potholes is surely going to ignite a spark within BMC once again.
Much has been said about the potholes in Mumbai and the subsequent comments and politics. 'Mumbai Rains' becomes one of the trending topics on social media within minutes of downpour. Social media is filled with live updates and video of  such insistence. With the outrage over the condition of infrastructure in the city, helpful information regarding traffic, water-logging, and train schedule, a lot of sarcastic comments and funny memes also flood the trend.
Also read: In Sabarimala Temple row, SC observes women's right to pray
Continuing that mood, radio jockey turned actress Malishka Mendonsa released a parody song of the chart-topping Marathi number 'Zingaat' from the movie Sairat. Her new hit 'Mumbai Geli Khadayat' is trending as number 1 on YouTube with over 261K views in one day.
Also Watch: 
In the parody, a clever mix of Hindi, English, and Marathi, the lyrics go,
(bridge) Baher geli hoti me, aanya saathi do chaar nimbu/ bridge padla aala tembu.
Urrat hote dhadd dhadd jevha baarish suru jhaali,
Bas kuch ghanton mein akkha Mumbai paanya khali aali,
Kuthe rastyanchi laagli waat,
Traffic madhye hui din ki raat,
Fakt do ghanton mein khadi hoti aamchi Mumbai ki khaat,
Kuthe padlay pull, rasta hai gull.. waakdi jhaali path,
Geli geli geli Mumbai khadyaat
As a fan of Malishka and a Mumbaikar who is deprived of safety in monsoon season, my personal favourite line from the song is…
Monsoon season mein jab hum bye bye bolke jaate office,
Maa ko chinta hoti bacha aayega kya wapis?