Fact Check: Photo showing people protesting in Mumbai against CAB is from Bangladesh
The viral photo claiming thousands of people protesting against CAB on Mumbai's Mohammed Ali Road is actually from Bangladesh.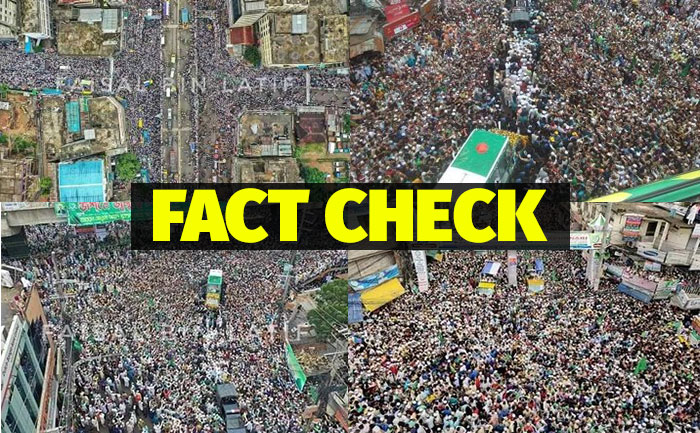 Amidst nationwide protest against CAB , yet another video claiming thousands of people staging protest in Mumbai over the passage of the Citizenship (Amendment) Bill has gone viral on social media.
The social media user claimed that the video is from Mumbai's Mohammed Ali Road. When the video was authenticated, it was found that the viral video and photo are nothing to do with the ongoing protest against Citizenship (Amendment) Act.
According to reports, the video and photos are month old and it is from Jasne Juluse Eid-e-Milad Nabi  (ﷺ) Chittagong in Bangladesh.
World Biggest Jasne Juluse Eid E Milad-Un-Nabi (ﷺ) Chittagong in Bangladesh.

Leading by Awlad e Rasul Hozur Allama Tahir Shah (M.J.A) ?#Mawlid #Mawlid2019 #MiladUnNabi #EideMilad #EiDeMiladunNabi #MawlidunNabi pic.twitter.com/d4roBYsAFb

— Yeasin Arafat Imran (@YeasinArafat769) November 10, 2019
Not only common people but also Facebook page Hyderabad Star News 72 also posted the misleading pictures that has been shared by almost 30 thousand people. The Facebook page of Hyederabad Star News 72 is being followed by 1.69 lakh users.
You can check out the picture here:
Using Yandex reverse search, India Today have also found a YouTube video of the same event. The video showcases the same location and the Eid-e-Milad procession as seen in the viral image. It was uploaded on November 10, 2019.
Speaking about the Citizenship Amendment Bill 2019, it was signed unto law by President Ram Nath Kovind late Thursday, granting citizenship to non-Muslim illegal migrants of six communities — Hindus, Christians, Sikhs, Parsis, Jains and Buddhists — from Pakistan, Afghanistan and Bangladesh.
Now it is quite clear that the viral image does not belong to Mumbai's Mohammed Ali Road. However, on Friday, a large section of people staged protest in Mumbai against the Citizenship Act at several places across the city.
Also Read: Farhan Akhtar Shuts Down Troll Who Asks Him To Reach Out To Muslims Over CAA