Mumbai Rains: Local train services stop, High tide at 12:47 pm today
Mumbai rains: IMD has issued a red alert for extremely heavy showers, , High tide of 4.51 metres at 12:47 pm today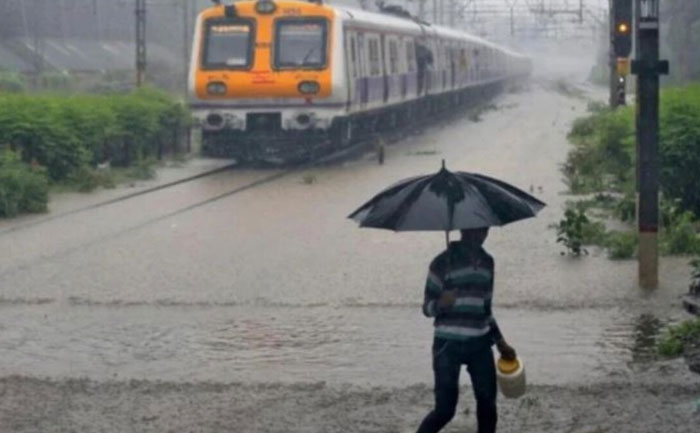 Mumbaikars woke up to heavy rain, with many parts of the city waterlogged. The island city has received more than 230 mm of rain in last 10 hours causing disruptions in essential services. BEST services have been diverted on 56 routes in various parts of the city. The local train service has also been affected. Trains on central, western, and harbour lines have completely stopped.
BMC has asked all offices to remain shut today due to heavy rains in the city. The Met department had said that extremely heavy rain will take place at isolated places in Mumbai, Thane, and Raigad districts of Maharashtra on August 4 and August 5.
#Skymet has sounded a red alert for today and tomorrow for extremely heavy rain in #Mumbai. BMC has announced that all offices and other establishments will remain closed today, except for emergency services.#mumbairain #MumbaiRains #MumbaiRainWithSkymet @MumbaiRainApp

— SkymetWeather (@SkymetWeather) August 4, 2020
High tide is expected at 12:47 pm on Tuesday. The Brihanmumbai Municipal Corporation (BMC) has alerted all concerned departments. Citizens have been asked to not go near any beach or low lying areas. Tides waves of around 4.51 meters have been predicted due to the heavy rains.
With a 4.45 metre high tide at 12:47pm, Mumbaikars are requested to not venture out unless extremely necessary & stay away from the shore & waterlogged areas.#MyBMCUpdates#MyBMCMonsoonUpdates

— माझी Mumbai, आपली BMC (@mybmc) August 4, 2020
A landslide took place on the Western Express Highway due to the incessant rains.
#MumbaiRains
land slide at Kandivali western express highway at Samta Nagar. Highway leading towards airport and city is closed one side and traffic diverted . Exact location is opposite Growels mall at western express highway. Below Times of India office. pic.twitter.com/MQ0NrbPzb5

— Jack Mhatre (@jack_mhatre3033) August 4, 2020
We shall soon update you with more information on Mumbai rains.
Also Read: Mumbai Rains: City gears up once again for 'heavy rainfall', schools closed