Nasa finds Vikram Lander, releases images of impact site
NASA Finds Debris of Chandrayaan-2's Vikram Lander Strewn on Moon's Surface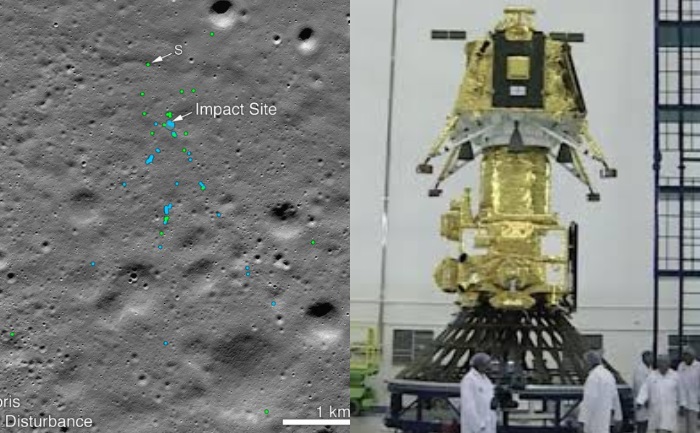 NASA has finally found Vikram Lander of Chandrayaan-2 and released the images of its impact site on the Moon. It is almost three months after India lost contact with Chandrayaan-2's Vikram lander. The spacecraft had lost its communication moments before making a soft landing on  Moon's South Polar region. The Space agency said  a NASA satellite orbiting the Moon has found the crashed lander.
Check out the image tweeted by NASA here:
The #Chandrayaan2 Vikram lander has been found by our @NASAMoon mission, the Lunar Reconnaissance Orbiter. See the first mosaic of the impact site https://t.co/GA3JspCNuh pic.twitter.com/jaW5a63sAf

— NASA (@NASA) December 2, 2019
NASA released an image taken by its Lunar Reconnaissance Orbiter (LRO) that showed the site of the spacecraft's impact. The parts are scattered over almost two dozen locations spanning several kilometers. In a statement, NASA said it released a mosaic image of the site on September 26, inviting the public to search it for signs of the lander. It added that a person named Shanmuga Subramanian contacted the LRO project with positive identification of debris — with the first piece found about 750 meters northwest of the main crash site.
Vikram Lander was scheduled to make a soft-landing near the south pole of the moon on September 7. However, minutes before its scheduled soft-landing, Isro had lost communication with the lander at 2.1 kilometres above the Moon's surface. The mission took off from the Satish Dhawan Space Centre in Sriharikota on July 22.
Also Read: Halloween! NASA's Telescope captures cosmic Jack-O'Lantern