Nashik Oxygen Leak: 22 COVID-19 Patients Died After Tank Leak Incident
Around 22 COVID-19 patients died after an oxygen tanker leaked in Nashik. Maharashtra Health Minister Rajesh Tope also confirmed the incident taking place. Officials to probe the matter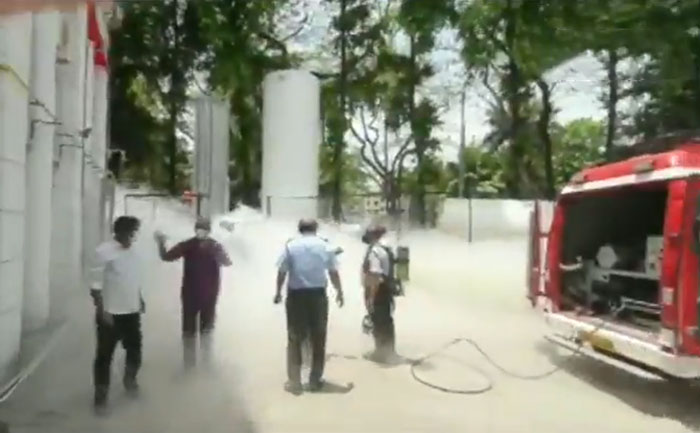 The pandemic Coronavirus outspread recorded a rapid surge in the country, which resulted in peeking numbers of highest single-day cases. On Wednesday, India recorded more than 2.95 lakh single-day fresh cases. Owing to this new wave hospitals are filled with COVID-19 positive patients. According to the latest reports, after a tanker leak incident in Nashik around 22 patients lost their life. More than 80 patients had to be shifted to another hospital immediately.
Approximately 22 patients were reportedly on the ventilators at the Zakir Hussain NMC Hospital, in Nashik. They died on Wednesday after the oxygen leakage incident took place in the storage tank. The officials from the hospital have reportedly promised the probe of the matter. ANI tweeted, "22 people have died in Nashik oxygen tanker leak incident till now, confirms Nashik DM."  

Maharashtra | 22 people have died in Nashik oxygen tanker leak incident till now, confirms Nashik DM pic.twitter.com/K0N21BEsHT

— ANI (@ANI) April 21, 2021
Maharashtra Health Minister Rajesh Tope has also confirmed the incident taking place. He informed the media portals, "As per the information available with us, the leakage was spotted at the oxygen tank which was supplying oxygen to these patients. The interrupted supply could be linked to the deaths of the patients in the hospital."
Check out the visuals:
#WATCH | An Oxygen tanker leaked while tankers were being filled at Dr Zakir Hussain Hospital in Nashik, Maharashtra. Officials are present at the spot, operation to contain the leak is underway. Details awaited. pic.twitter.com/zsxnJscmBp

— ANI (@ANI) April 21, 2021
It's really Terrible 22 people died in nasik today RIP…….😔😔😔#Nashik pic.twitter.com/cjDNzvO4Q1

— Shubham kothari Journalist (@shubkothari1234) April 21, 2021
22 Dead as Oxygen Tank Leaks at a Hospital in Maharashtra's Nashik. @nashikpolice @InfoNashik @TOINashikNews pic.twitter.com/TIrp2BT36u

— VISHAL RAJ MISHRA (@imvisalofficial) April 21, 2021
For the unversed, several hospitals in India have reported running out of oxygen. PM Narendra Modi in his address to the nation also confessed about the nation being in oxygen crises. Such leakage surely adds more to the concerns.
For all the latest reports, stay hooked on this space.
Also Read:  COVID-19 Spike: Tata Group To Import 24 Cryogenic Containers To Aid The Oxygen Crises