Avengers Endgame Premiere 2019: Fans Go Gaga Over Natalie Portman's Appearance
'Avengers: Endgame' Fans Are Losing It Over Natalie Portman's Purple Carpet Appearance in Los Anegeles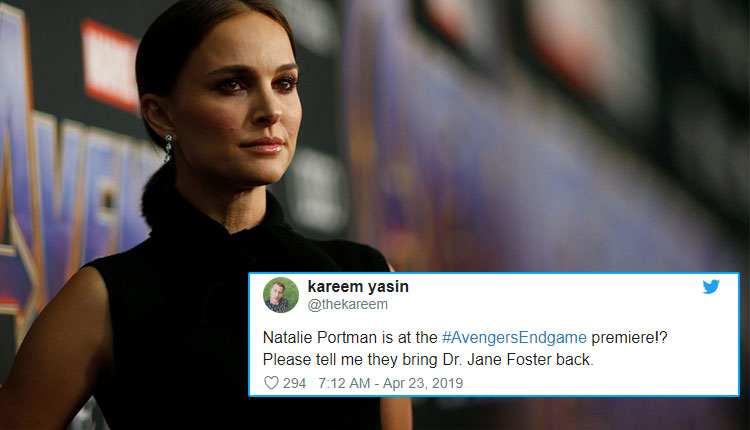 Finally, the world has witnessed the grand premiere of Avengers Endgame yesterday's night. Yes, the Purple Carpet event was attended by Avengers stars Robert Downey Junior, Chris Hemsworth, Scarlett Johansson, and Natalie Portman. Yes, Natalie who made her debut as Jane Foster in 2011's Thor and reprised in 2013's Thor: The Dark Work was also spotted at the Avenger Purple Carpet event in Los Angeles.
It should be noted that Natalie Portman has been away from the Marvel Cinematic Universe since 2013. Spotting her at the event, fans were thrilled and started clicking pictures and praising her. If reports are anything to go by, Natalie Portman will narrate the Disney feature film, Dolphin Reef, which is likely to be released on Disney+, the studio's upcoming streaming service.
"Disneynature takes audiences to spectacular and remote places to share remarkable wildlife stories captured by our award-winning film crews," Paul Baribault, vice president of Disneynature, said Monday in a statement.
Dolphin Reef, which is scheduled to launch on November 12, will join the lineup on Disney+ as a family-friendly service with an expansive library of programming, including the Disney classics 101 Dalmatians, Bambi, Fantasia, Mary Poppins, The Sword in the Stone, Steamboat Willie and Sleeping Beauty.
Coming back to Avengers Endgame, which is the 22nd and in the franchise of comic book adaptations. The franchise is known for introducing us dozens of exciting characters, some which become staples of the series while others have long been forgotten.
Despite, Natalie has no role to play in Avengers Endgame, she made her appearance at the red carpet event of Avengers Endgame on April 22 leaving her fans more excited.
Here is how fans reacted to Natalie Portman's appearance at Avengers Endgame Premiere 2019
Natalie Portman is at the #AvengersEndgame premiere!? Please tell me they bring Dr. Jane Foster back. pic.twitter.com/2YQcdHphnq

— kareem yasin (@thekareem) April 23, 2019
JANE FOSTER WILL DEFEAT THANOS #NATALIEPORTMAN pic.twitter.com/GEU9WGYFpd

— səb | was cheridcn (@damerogcrs) April 23, 2019
Natalie Portman may not have romantic chemistry with Chris Hemsworth, but I really liked Jane Foster. I hope we see more of her character in the MCU. #AvengersEndgame https://t.co/KRPXeNXvfZ

— RM for Rooney Mara (@femalehsr) April 23, 2019
not gonna lie i missed natalie portman and man does she look so good whew pic.twitter.com/Gb44jh3qlk

— elle 1 (@caplovesfondue) April 23, 2019
MY BABY NATALIE PORTMAN IS AT THE ENDGAME PREMIERE pic.twitter.com/R2IMlYtMJA

— 𝐓𝐚𝐫𝐠𝐚𝐫𝐲𝐞𝐧. (@tcfangirll) April 23, 2019
Natalie Portman at the #Avengers premiere: pic.twitter.com/ZNoFj8uX1h

— Chloe (@ruinedpancakes) April 23, 2019
Natalie Portman arriving #AvengersEndgame premiere like pic.twitter.com/hPe0zHZKME

— Yasna 🍩 (@ycavieres) April 23, 2019
NATALIE PORTMAN IS IN ENDGAME JANE FOSTER REALLY IS BACK IM LOSING MY FUCKIN MIND OMFG pic.twitter.com/JXAKk0Ouzy

— lu (@dracarjys) April 23, 2019
Natalie Portman is at the #AvengersEndgame premiere!? Please tell me they bring Dr. Jane Foster back. pic.twitter.com/2YQcdHphnq

— kareem yasin (@thekareem) April 23, 2019
Also Read: Avengers Endgame Premiere Pics