Nation pays homage to martyrs of Parliament attack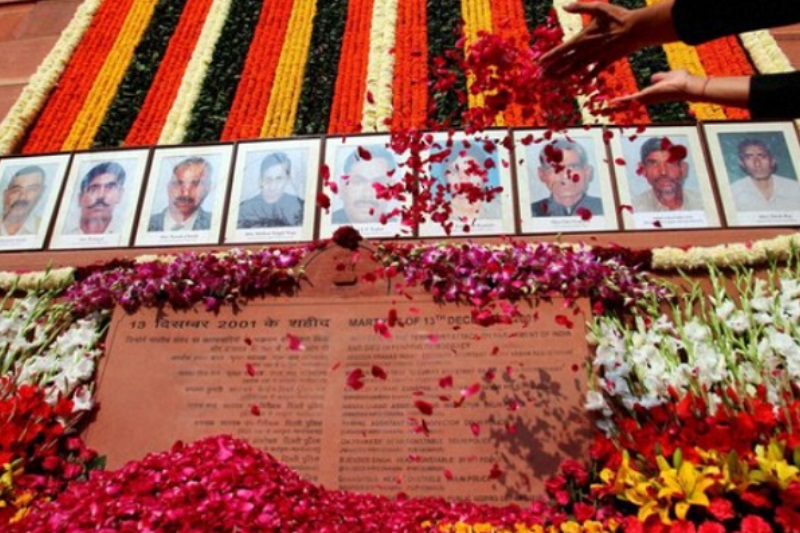 The nation today pays homage to the martyrs who sacrificed their lives while defending the dignity of our country i.e parliament house in the terror attack on this day in 2001.
A function to pay floral tributes to martyrs who sacrificed their lives during the terrorist attack on parliament on 13th of December 2001 is also being held in the house today. Politicians across party lines paid the floral tributes to the victims of the attack.
President Ram Nath Kovind, Vice President M Venkhaiah Naidu, Prime Minister Narendra Modi, Home Minister Rajnath Singh, BJP President Amit Shah, former Prime Minister Manmohan Singh and many other top leaders paid floral tributes to the martyrs.
Delhi: UPA chairperson Sonia Gandhi, Senior BJP leader Lal Krishna Advani, Lok Sabha speaker Sumitra Mahajan pay tribute to people who lost their lives in the terrorist attack on Parliament on December 13, 2001 pic.twitter.com/ArTLRTEYTk

— ANI (@ANI) December 13, 2018
Meanwhile, in a tweet, Prime Minister Narendra Modi saluted the valour of those who were martyred during the dastardly attack on our Parliament on this day in 2001.
We salute the valour of those who were martyred during the dastardly attack on our Parliament on this day in 2001. Their courage and heroism inspires every Indian.

— Narendra Modi (@narendramodi) December 13, 2018
President Ram Nath Kovind, currently in Myanmar tweeted in a message saying that, "India gratefully remembers those martyred while defending Parliament from terrorists on this day in 2001. Forces of hate and terror targeted what we cherish most — India's democracy and democratic values. They did not succeed. And we will never let them succeed #PresidentKovind"
Naidu also tweeted saying, "December 13 is a day to pay homage to those who were martyred, and to remind ourselves of the need for a united resolve against a common enemy." "No words of commendation or praise are enough to describe the valiant manner in which our security personnel laid down their lives to protect the lives of parliamentarians and the institution of Parliament," he said.
"We must stand united as a nation and, every country as a part of the global community has to stand up, speak up and, if necessary, step up in this battle. We are confronting a common enemy. Only a coordinated strategy will work against such a foe," conveyed Naidu in one of his articles before.
On 13 December 2001, five terrorists infiltrated the Parliament House in a car with Home Ministry and Parliament labels. While both the Rajya Sabha and Lok Sabha had been adjourned 40 minutes prior to the incident, saving many of the important lives.
The gunmen used a fake identity sticker on the car they drove and thus breached the security deployed around the parliamentary complex.
Delhi Police officials claimed that gunmen received instructions from Pakistan and the operation was carried out under the guidance of Pakistan's Inter-Services Intelligence (ISI) agency.
However, the attack led to the deaths of five terrorists, six Delhi Police personnel, two Parliament Security Service personnel and a gardener. The attack increased tensions between India and Pakistan, resulting in the 2001–02 India – Pakistan standoff.
Also Read: Jammu & Kashmir: Security forces gunned down two terrorists in Sopore