NCB Seizes Deepika Padukone, Sara Ali Khan, Shraddha Kapoor And Rakul's Phone In Drug Nexus Case
According To The Latest Reports, NCB Seizes Deepika Padukone, Sara Ali Khan, Shraddha Kapoor And Rakul Preet Singh's Mobile Phones In Drug Nexus Case. The Three Actresses Were Interrogated On Saturday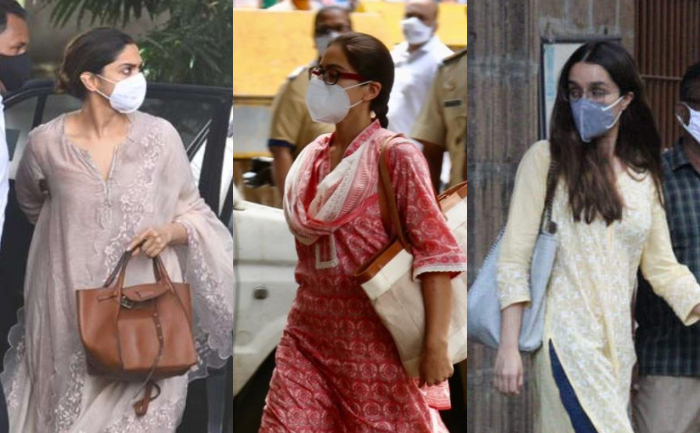 Deepika Padukone, Sara Ali Khan, Shraddha Kapoor and Rakul Preet Singh were summoned by the Narcotic Control Bureau in drug cartel probe, which is linked with Sushant Singh Rajput's death case. According to the latest reports, the agency has now seized actresses mobile phones in order to investigate further more.
According to a report by ANI, the Narcotics Control Bureau officials have informed that they have seized the phones of Deepika, Sara, Shraddha and Rakul for further investigations and to find more clues. Not just the actresses, but Deepika's manager Karishma Prakash and Rhea's manager Jaya Saha's phones were also taken under agency's custody. The seized phones have apparently been sent for forensic examination to curate the evidences.
Mobile phones of Deepika Padukone, Shraddha Kapoor, Sara Ali Khan, Karishma Prakash, Rakul Preet Singh, Simone Khambatta and Jaya Shah have been seized: Narcotics Control Bureau (NCB) official. #SushantSingRajputCase

— ANI (@ANI) September 27, 2020
For the unversed, Deepika Padukone, Sara Ali Khan and Shraddha Kapoor were grilled by the NCB officials on Saturday and the actresses were questioned about their involvement in consuming drugs at the parties. Reportedly, the 'Chhapaak' actress has confessed to the officials about her drug chats with KWAN talent manager, Karishma  Prakash.
Also Read: Amidst NCB Drug Probe Deepika Padukone, Sidharth Malhotra And Sonakshi's Pics From Koko Party Goes Viral