NCP Supporter Thrashed For Showing Black Flag To Sadhvi Pragya Singh Thakur In MP
BJP Workers Thrashed NCP supporter for showing Black flag to Malegaon Blast accused Pragya Singh Thakhur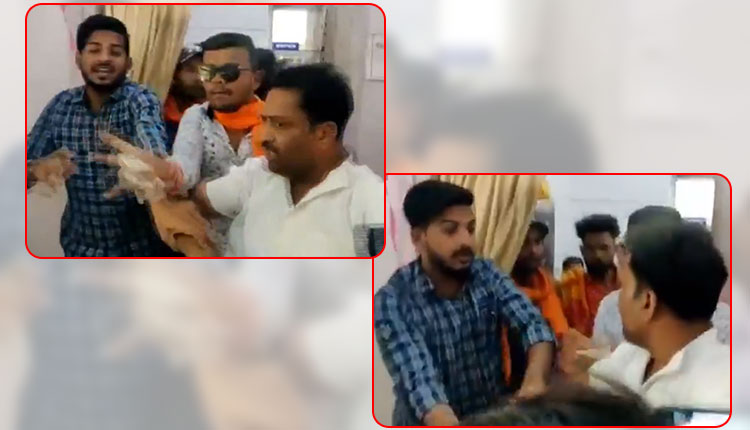 Nationalist Congress Party (NCP) party supporter has been thrashed by Bharatiya Janata Party (BJP) for showing black flag to Malegaon blast accused and BJP candidate from Bhopal during the roadshow. The video of NCP workers being beaten and taken by Police has gone viral on social media. Notably, Pragya Singh Thakur is contesting election against Congress senior leader Digvijay Singh.
The moment video was uploaded on Twitter, netizens slammed BJP workers and Pragya Singh Takhur for the unfortunate incident. Pragya Singh filed her nomination papers from Bhopal today. She joined the saffron party on April 17 and on the same day she was declared a party candidate. Before filing the nomination papers, the BJP candidate held a roadshow.
Watch: NCP leader Thrashed by BJP workers in MP
Madhya Pradesh: BJP workers thrashed an NCP worker at SDM office in Bhopal after he allegedly showed black flags to Pragya Singh Thakur, BJP LS candidate from Bhopal, during her roadshow. pic.twitter.com/WsbgIiThWD

— ANI (@ANI) April 23, 2019
It should be noted that Pragya Singh Thakur has been in the headlines for many reasons including she is out on bail after serving more than nine years in jail in connection with September 29, 2008, Malegaon Blast in which six people were killed and more than 100 injured. Recently, Pragya sparked controversy by insulting 26/11 martyr Hemant Karkare saying 'he died because she had cursed him'.
The voting for Lok Sabha Election elections in Bhopal will take place on April 28. The LS constituency is a bastion of the BJP in Madhya Pradesh as the party has not lost the seat continuously since 1989. The last Congress MP elected from Bhopal was K N Pradhan in 1984.