Neeraj Chopra wins gold at Tokyo Olympics: His journey from Panipat to Olympic Podium
Neeraj Chopra made India proud clinching the gold medal at the Tokyo Olympics. He became the first medalist in the Javelin Throw. Here check out his family background and his up-side-down journey from Panipat to Tokyo Olympics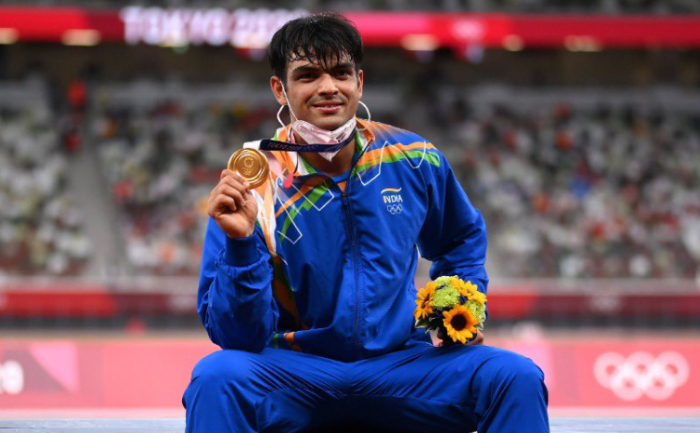 On Saturday (August 7), Javelin thrower Neeraj Chopra made India proud with his historic win at the Tokyo Olympics. He scripted the history becoming the first gold medalist in Javelin throw athletics and second in overall gold medallist in the athletic category. He recorded the historic win after throwing the javelin 87.58m away. He has been garnering best wishes from celebs and politicians on social media. Here we take you through the details of how Neeraj become a star Javelin thrower. Know about his journey from Panipat to Tokyo Olympics.
Neeraj Chopra's Family Background:
Neeraj Chopra's father, Satish and his two brothers and their families live as a joint family. The family is supportive of Neeraj's athletic career. After he made a historic win at the Olympics, the celebrations began at the Sonipat, Rohtak, Jhajjar, Bhiwani and the rest of the state. The 23-year-old soldier, Neeraj hails from Panipat( Haryana). He was born on December 24, 1997 into the family of farmers. His father, Satish Kumar is a farmer, while his mother Saroj Devi is a housewife. Neeraj was raised alongside two of his sisters. As a child Neeraj was obese however, he overcame all his obstacles to win the gold at the Tokyo Olympics.
What a show. Congratulation.#NeerajChopra pic.twitter.com/qLRWKxggVw

— yogesh nanda (@yogeshnanda1) August 7, 2021
Journey Of Neeraj Chopra From Panipat To Tokyo Olympics:
Neeraj Chopra marked his debut in international matches in 2016. He won the World U20 Championship in Bydgoszcz, Poland having a record of world junior throw 86.48 metres.
He won gold in the 2016 South Asian Games with a throw of 82.23 metres.
The following year, he clinched gold at the Asian Athletic Championships with a throw of 85.23
In 2018, he won gold at the Commonwealth Games in Gold Coast with the campaigns one of the best throw of 86.57. Then became the first Indian javelin thrower to win a gold medal at the Commonwealth Games.
Just a few months later( in August), he broke his own record with a throw of 88.06 metres at the Asian Games 2018 bagging the gold
For the unfortunate reasons of being injured, Neeraj took a break because of his shoulder injury. He had undergone a surgery which made him rest for six months.

Neeraj tried his luck at the National Championships in 2019, however, he did not clear the rounds due to his injury. He missed the IAAF World Championships, Diamond League, and the Asian Championships.

He made a bang on came back in 2020 and stunned everyone with his qualification mark at the ACNE League meeting in South Africa. He threw at a distance of 81.56m in his first attempt, his results kept getting better, managing 82 m and 82.57 m in the second and third attempts respectively. Then in the fifth attempt, he threw a massive 87.86m
List of Gold medals Neeraj Chopra won:
Gold Medal, Olympic Games 2020
Gold Medal, Asian Games 2018
Gold Medal, Commonwealth Games 2018
Gold Medal, Asian Athletics Championships 2017
Gold Medal, World U-20 Athletics Championships 2016
Gold Medal, South Asian Games 2016
Silver Medal, Asian Junior Championships 2016
Current National Record Holder (88.07m – 2021)
Current World Junior Record Holder (86.48m – 2016)
For more such updates, stay hooked on to The Live Mirror.
Also Read: Tokyo Olympics: Neeraj Chopra Wins First Gold In The Javelin Throw