Neha Kakkar hits back on Kiku Sharda and Gaurav Gera for body-shaming her
Have a look at the strong reactions by Neha and Tony Kakkar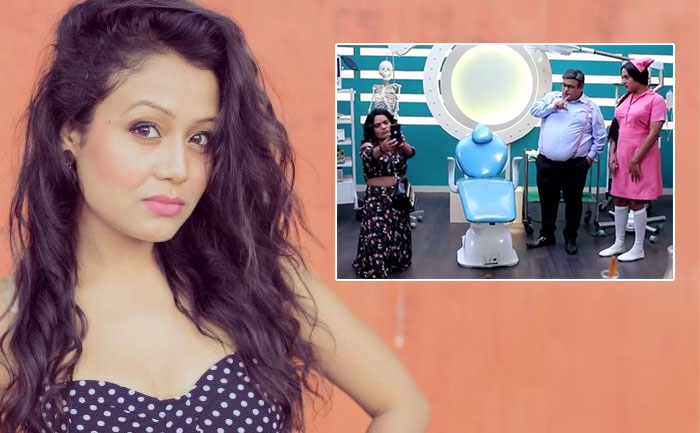 Neha Kakkar lately slammed Kiku Sharda and Gaurav Gera for body-shaming her. Apparently, Neha Kakkar reacted strongly as she was being targeted in the comedy routine. Neha and her brother Tony reacted to comedian Gaurav Gera's latest act where he had targeted Neha Kakkar for her body shape and size. Gaurav was performing an act as nurse for short format originals segment which was Dr. Pran Lele that was aired between a film telecast on Sony Max.
It was in the said video where a short girl dressed in a stylish, glamorous avatar named as 'Neha Shakkar' is made fun for her size. Not only that, the girl is called 'Chota sa bluetooth speaker'. Moreover, Neha's song Do Peg Maar is also been mentioned.
To this, Neha Kakkar sharply reacted to the video. Neha took to her Instagram stories and slammed the artists for body-shaming her.
She wrote, "Shame on these people to create such a NEGATIVE and insulting content! My people know how much I appreciate comedy on me and otherwise but this one is Ridiculous!!! Stop using my name, Stop enjoying, dancing and acting on my songs if you hate me so much. Thankless people." Check out the picture below.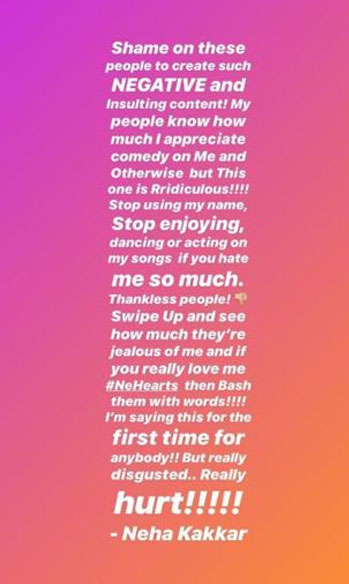 She wasn't alone while she slammed the comedian artists, her brother Tony as well supported her in the matter.
However, Neha posted new note Thursday morning wherein she requested fans to forgive and forget . She wrote that the incident should be forgotten and to move forward. She asked the fans to forgive them. Check out the picture below.
Also Read: Neha Kakkar Hits 30 Million Followers On Instagram