New Covid-19 strain in South Africa: Five Nations Ban Flights
After United Kingdom; Five Countries Ban Flights From South Africa Over New COVID-19 Strain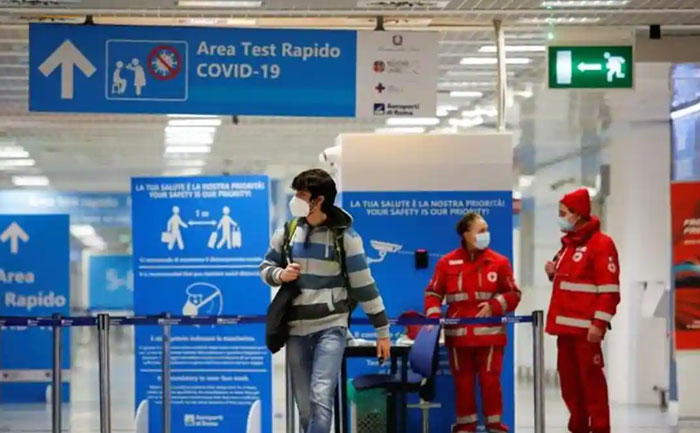 Flights from the United Kingdom have been suspended as cases of new COVID-19 strain being reported. Now after much of European nations stopped air travel from the UK, many nations have banned flights from South Africa. As reports of the new strain were discovered in the Eastern Cape and also affects Kwazulu-Natal and the Western Cape.
Health Minister Zweli Mkhize had earlier revealed that a huge number of young people are testing positive. He added that the evidence collected strongly suggests that the current second wave is being driven by the new strain of coronavirus.
As reported by Xinhua news agency, Five nations have suspended flights from S Africa in an effort to prevent the spread of the new strain termed 501.V2. Germany, Turkey, Israel, Switzerland and Saudi Arabia are among the countries that have announced the ban. The ban came into effect on Monday in most of these countries.
Germany was one of the first nations to announce the ban. Turkish Health minister Fahrettin Koca tweeted that a temporary suspension has been decided for flights from England, Denmark, Netherlands and South Africa.
Israel also banned the flights on Sunday, with a 30-day mandatory quarantine for travellers returning home. Saudi Arabia has suspended International flights and closed its land borders to prevent the spread of the virus. I
Switzerland suspended all flights from England and South Africa. India is yet to announce any air travel restrictions for flights from South Africa. Uzbekistan and the Netherlands have also closed their air spaces for South African flights.
Also Read: COVID-19 Updates: India Temporarily Suspends Flights From UK Due To Mutation Of Coronavirus