Nirbhaya Case: Delhi court issues death warrants to four convicts
Nibhaya Case: 7 years after Nirbhaya's death the 4 accused to hang on January 22 at 7 am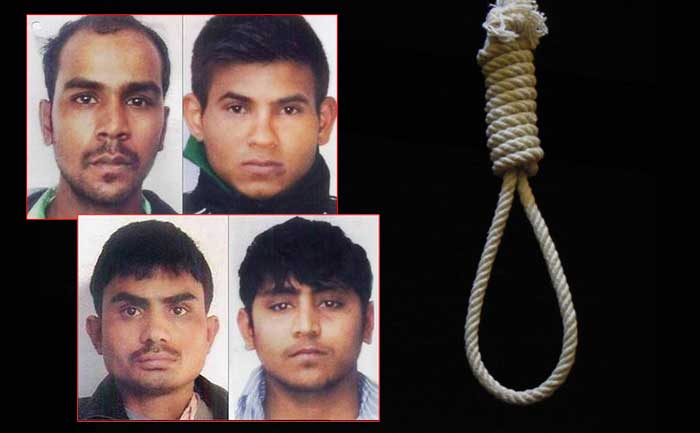 Finally, the 4 accused in the Nirbhaya gang-rape case have been sentenced to death. A Delhi session court has sentenced the four convicts to death in the Nirbhaya case. They will hang at 7 am on January 22. The four accused
Akshay Thakur Singh, Mukesh, Pawan Gupta, and Vinay Sharma were found guilty in 2012 gang-rape, torture and killing of a young medical student in Delhi.
The decision comes seven years after the gruesome rape and murder of the 23-year-old paramedical student on the night of December 16, 2012.
Kudos to Judiciary for restoring faith and delivering justice to Nirbhaya who represents the soul of every Indian girl.
On December 18, Nirbhaya's parents and the Delhi government had approached the Patiala High Court in the capital city for issuing the death warrants, to expedite the process to hang the four convicts. They had done this after the Supreme Court had dismissed a review petition filed by one of the four accused. As soon as the judgment was passed by the session court. Nirbhaya's mother, who had petitioned the court for a death warrant, said that she had waited seven long years for this day. "This judgment will reinforce people's faith in the judiciary. My daughter will get justice," she said.
Besides the four convicts, two more were accused of rape and murder. Ram Singh, the fifth accused, committed suicide and a juvenile was released after three years in a reform home.
The Nirbhaya rape case that had left the nation shell shocked was when a 23-year-old paramedic student was gang-raped and tortured with an iron rod on a moving bus in south Delhi on December 16, 2012. She was later dumped on a road, naked and bleeding. She died on December 29 amid street protests across the country.
The convicts are in Delhi's Tihar jail, officials have already started preparing for the hangings.
Also Read: Nirbhaya Case: Amnesty India says death penalty not a deterrent for crimes against women