Nirmala Sitharaman lied to the nation in Rafale Deal claims Rahul Gandhi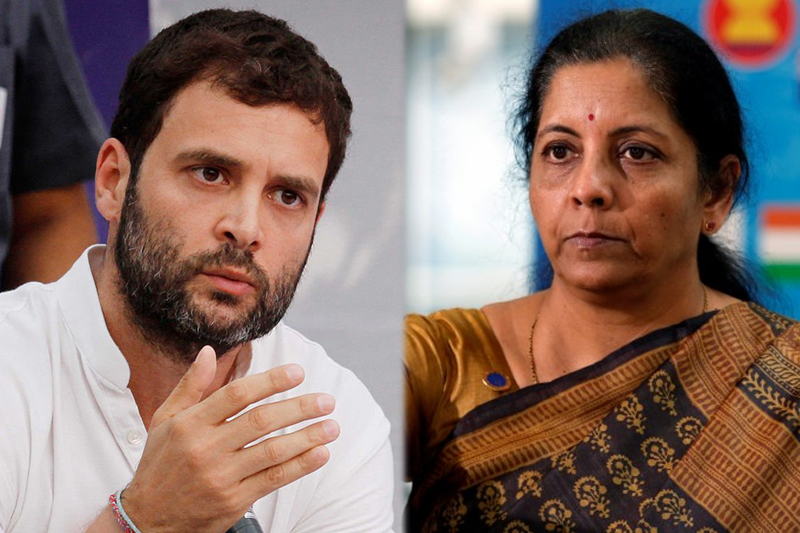 The Congress President Rahul Gandhi launched a full fledged attack on the Prime Minister and said in his aggressive speech that everybody in the country knew how much money was being spent in image building activities of the Prime minister and the businessmen who are paying for it.The businessmen who benefitted from the Rafale deal, he said, had a windfall of ₹45,000 Crore.
Says Rahul Gandhi, "The Prime Minister must tell the nation at whose behest he had changed the terms of the Rafale deal. He must reply on the following questions:Was the Cabinet Committee on Security consulted before his visit to France and its approval taken before the terms were changed ?Why was the clause which mandated that Hindustan Aeronautics Ltd., a PSU, to manufacture the Rafale fighter jet, dropped ?And who is the businessman or businessmen who the deal has benefitted? Defence Minister Nirmala Sitharaman later said that the secrecy clause had been signed in 2008 by the UPA Government and the then Defence Minister AK Antony. What the defence minister did not say, however, was that the 2008 agreement no longer holds. The Prime Minister on his visit to France in 2016 inked a new deal. And since Ms Sitharaman on Friday said nothing about the 2016 agreement, it is now apparent that there is no secrecy clause in this agreement.The controversy had surfaced following allegations that the Modi Government was paying three to four times the cost for each Rafale fighter that was negotiated by the UPA Government."
The Modi government had been accused of lobbying for the Reliance Defence of Anil Ambani and the Rafale was described as overpriced.But in February, 2018 also Nirmala Sitharaman had refused to disclose details to Parliament on the ground of the confidentiality clause. Responding to the Congress chief Rahul Gandhi's allegations against her in the Rafale case, Defence Minister Nirmala Sitharaman says a secrecy agreement with France was signed in year 2008 and Rafale deal was also covered in it. She says the French president has told an Indian media outlet that price of the jets cannot be revealed and that what he told an MP is not relevant.
The statement does not offer any figures about how much India is paying for the various components of the deal – a key demand of the political opposition.